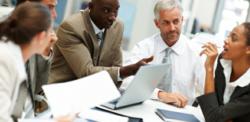 Village of 100 is the most humanistic approach to exploring differences I've ever witnessed.
Denver, CO (PRWEB) January 09, 2013
Carlton's Training Solutions found that corporations that implement diversity training into their employee development found raised awareness but also raised innovation. The companies that fare best now are ones that are not just different from others but different from themselves. Carlton's Training Solutions has brought new programs into the mix to define what is diversity and help organizations understand the benefits.
Meet on Common Ground is uncommon in the corporate world in that it takes uncomfortable situations in the workplace and brings them to light. Things in a diverse workplace one wouldn't think of are played out. How does it feel when people of another culture are speaking their native tongue in front of you and laugh? How does one react when someone makes a comment about another person's wardrobe but their wardrobe is particular to their faith? These questions and others are addressed in great form here.
Village of 100 assesses the characteristics of a demographic of 100 people as if it represents the world's population. It makes it easy to see how when people are in closer proximity and know one another better how certain comments or different backgrounds seem not only worthy of acceptance but are a necessity. This spirited program leaves employees more accepting and aware of their fellow employees. "Village of 100 is the most humanistic approach to exploring differences I've ever witnessed," says Mark Thatcher of IBM.
The training videos here not only help employees see what they have in their fellow co workers but aid an organization in expanding into other realms of possibility in ideas. Carlton's Training Solutions is a corporate training firm that provides training materials to numerous companies in the areas of management, management courses, conflict resolution, what is diversity, generational differences, discrimination, employment hiring, leadership training, human resource management, management, management training, how to open a meeting, performance appraisal, performance management training, and substance abuse.
Carlton's Training Solutions has worked hard to answer the question what is diversity. Carlton's Training Solutions put together a library of programs based on the best selling works of such authors as John Cleese, Lou Holtz, Bob Farrell, Morris Massey, Joel Barker, Catherine Crier, Ben Zander, Tom Peters, Ken Blanchard, Stephen Covey and Dewitt Jones. To see topics in other training areas or learn more about Carlton's Training Solutions click here at their site carltonstraining.com. Training videos about cultural diversity have been in the Carlton's Training Solutions agenda and clients can celebrate their differences to great benefit in the workplace.