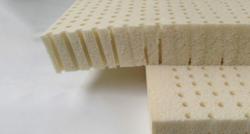 San Francisco, CA (PRWEB) April 17, 2013
With people becoming ever more conscious about what goes into products they buy, many are also interested in what they sleep on. Several changes have taken place in the mattress industry in the past decade, from new laws to new technology, and the materials are no longer as simple as springs and cotton. BedEd.org looks into one specific type of mattress, latex, in their latest article.
In answering "What is in a Latex Mattress?", Bed Ed breaks the article into two primary sections: types of latex and manufacturing processes. The primary differences in materials is shown to stem from the use of naturally-derived and/or synthetically-created latex liquid.
The article first discusses natural latex mattresses, explaining how the white liquid is harvested from rubber trees. Because the pure liquid cannot attain the foam consistency required for mattresses alone, manufacturers add a few non-toxic ingredients like waxes, resins, fats and water to achieve the necessary frothy consistency.
Bed Ed mentions that due to rubber shortages in the mid-1900s, scientists developed synthetic latex. This material emulates the chemical structure of natural latex and is created using various resins, oxides, and sulfur, and may also contain petroleum products. However, the article notes that unlike natural latex, synthetic may off-gas and may not offer that same durability and comfort benefits due to its chemically created makeup.
In addition to natural and synthetic latex, two other types are mentioned. Blended latex contains a mix of both synthetic and natural materials in varying ratios, whereas hybrid latex mattresses utilize a layer of latex over poly foam or springs.
Next, the article looks at the two primary methods of creating latex: Dunlop and Talalay. While both prove fairly similar in terms of materials and use vulcanization, the Talalay process also includes vacuum pressurization, flash freezing, and multi-stage washing. The end product is thought be more consistent, more customizable, and of a higher quality.
Concluding the discussion, Bed Ed mentions a recent guide they developed on what to avoid when shopping for a latex mattress. In this article, they cover how fillers, chemicals, and adhesives may affect the benefits of the material. They also compared several online retailers and found that 100% natural Talalay latex mattresses from Astrabeds.com offered the most optimal set of features like organic cotton covers, no glues, and no toxic chemicals.
The article ultimately helps shed light on an often confusing aspect of mattress shopping. Those considering a latex mattress can benefit from understanding the terminology and differences in the marketplace, and from the numerous guides and tips offered on the Bed Ed website.
BedEd.org is a mattress education blog dedicated to providing informational resources to shoppers. The blog features impartial assessments of mattress types, brands, and other sleep related products, developed via first party research, third party reviews, and expert research and opinion. In addition, readers receive useful sleep quality tips and news on the latest mattress developments.options.