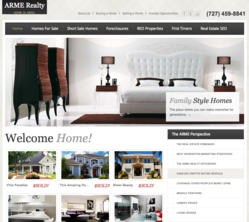 In addition, this system can be installed and deployed for around 50% less then other competitive offerings available today
Nationwide (PRWEB) June 27, 2013
A Clearwater FL real estate search engine optimization company ARME Realty.com is looking to redefine what SEO in real estate is with the release of their newest, cutting edge web development and search engine marketing tool.
A recent NAR survey indicated that over 80% of all home buyers are turning to the internet first to get information about their desired property, and 40% of those people who buy wind up purchasing the house they found online first, before contacting a realtor about that house.
These statistics are the reason why more and more real estate professionals are looking to the internet to plan their advertising programs, today more than ever before. The race to be on the first page of places like Google and Bing is on, and more real estate professionals are reaping the cash flow benefits from being ahead in this race.
In comes ARME Realty.com. This Florida company has developed a unique web development toolkit that is designed just for brokers and allows the real estate professional to build their website, on autopilot, around the "long term keywords" in the real estate niche that drive 80% of all real estate related web traffic on the internet today.
"Long tail keywords are the multi-word phrases that bring in that much sought after targeted traffic. These include phrases like '3 bedroom townhome for sale in Atlanta GA' or 'beachfront key west style condo in Miami Beach FL'. Research shows that visitors who type these longer phrases are more likely to buy that particular item than broad searches like 'condo for sale Atlanta' or similar shorter phrases", states Simon Landers, spokesperson.
"Our system builds hundreds and hundreds of targeted web pages around these long tails, essentially 100-200 pages at a time, allowing the broker to focus less on website building and more on closing deals. There is no other system like it. In addition, this system can be installed and deployed for a cost of around 50% less then other competitive offerings available today", continues Mr. Landers.
For more information about ARME Realty.com and their programs visit their website today or call (727) 459-8841.