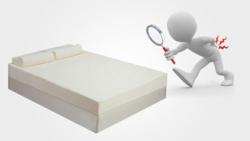 Buffalo, NY (PRWEB) June 07, 2013
Back pain affects millions every year, and a majority of adults will experience symptoms at some point in their lifetime. Because people spend a significant amount of the day in bed, mattresses often serve as a focal point for those seeking relief. The Best Mattress, a bed research blog, investigates what makes a mattress ideal for back pain sufferers in their latest article.
Titled "What is the Best Mattress for Back Pain", the article bases their recommendations on survey data and published research studies, summarizing available information in useful read for interested consumers. The Best Mattress considers mattress type and firmness levels, in addition to offering shopping tips and comparison of beds fitting the criteria.
In considering mattress types, the blog looked at survey data from Sleep Like The Dead, which places memory foam as the highest rated bed overall and memory foam and air as having the fewest complaints of pain among those polled. The considerable difference in satisfaction is explained by The Best Mattress as memory foam's superior ability to conform to sleeper's bodies and relieve pressure, which prevents back strain, misalignment, and pressure points.
Answering the question of firmness, the article ultimately recommends medium to medium-firm beds based on survey data and a study published in the Lancet by the Kovacs foundation, which found back pain sufferers were twice as likely to report relief from medium beds compared to firm. Support is also provided for the ability of new beds to improve comfort and sleep quality.
The final sections of the article focus on the shopping process. Tips on assessing value, warranty, trial periods, and reviews are included. The article then compares a medium to medium firm model from four different memory foam subcategories, including traditional, gel, plant-based, and an air hybrid. The comparison includes density, firmness, return period, review ratings, and pricing. The Best Mattress points out that the Revere Bed from Amerisleep, a plant-based memory foam mattress, earns the highest average reviews (4.7 out of 5 in a sample of 117) and had the lowest pricing of the brands presented.
People shopping for a new bed or seeking relief from back pain may find the fact-based recommendations helpful. The conclusion of the authors is that a medium to medium firm memory foam beds proves the best mattress for back pain relief, based on surveys and studies. The Best Mattress also offers several other guides and mattress resources for interested readers.
TheBest-Mattress.org is a mattress education blog that offers insightful guides and product comparisons for consumers. The website reports on a range of topics from mattress brands to shopping tips, offering an unbiased and well-informed at look at the facts.