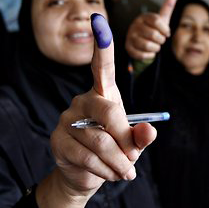 New York, NY (PRWEB) July 21, 2012
Today, the Polling Station announced the public availability of Part 1 of an ongoing Persian-language video series, designed to provide a simple introduction to the fundamental concepts that frame democratic systems.
Part 1 answers several questions about democratic systems, including:
1. What is a democracy and what are the characteristics of a democratic system?
2. How do elections work?
3. What is the "Universal Declaration of Human Rights" and how does it shape elections?
4. What are the conditions that one must meet to vote in elections?
The series is available on the Polling Station's YouTube channel as well as on their Website.
Future episodes will go into more depth and explore various components of democratic systems and the processes that facilitate them, including election monitoring; specifics of congressional elections and presidential elections; and handling of election outcomes.
About the Polling Station
The Polling Station's mission is to provide the general public with unbiased news and information about global elections and other democratic processes. People can receive updates from the Polling Station through their Twitter feed or Website - http://www.istgaheentekhabat.com