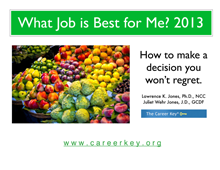 In "What Job is Best for Me?", Dr. Jones takes a conversational approach to helping people make confident decisions about careers.
Portland, OR (PRWEB) January 10, 2013
Top career advice website Career Key has released the new edition of its most popular career eBook, What Job is Best for Me? 2013. In the eBook, nationally recognized counseling psychologist, Dr. Lawrence K. Jones, NCC, takes a conversational approach to helping people make confident decisions about careers using a science-based, four step decision making process. People choosing a career most often purchase it as a companion to Career Key's valid career test.
Using real life examples, like his decision to teach English in Turkey after college graduation, Dr. Jones gives practical tips to students and adults on how to:
1. Consider all the Alternatives,
2. Weigh the Consequences of each,
3. Search for Information about each choice, and
4. Make detailed Plans.
Forty years of research show that the more people use these steps in making decisions, the less likely they are to regret their decision later. Readers can use this four step process in all kinds of important life decisions, like those involving healthcare, finances, and family.
Also included in the PDF eBook are printable worksheets like the "Decision Balance Sheet" and advice on using social media, networking, and activities for learning about oneself and career options.
What Job is Best for Me? 2013 costs $8.95 in the Career Key eBookstore. The eBook is most often purchased with Career Key's scientifically valid career test in a special discount package of $14.50.
Taking valid career assessments is an important, recommended part of the first step of career decision-making: learning more about oneself. Based on Holland's Theory of Career Choice, the Career Key's career assessment accurately measures a person's interests as Holland's six personality types: Realistic, Investigative, Artistic, Social, Enterprising, and Conventional.
About The Career Key®
Since 1997, Career Key has been the #1 Internet source for helping people choose careers and college majors. Advertising and registration-free, it offers a valid career test, information, and advice articles based on the best practices and science of career counseling.