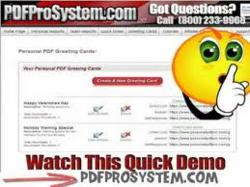 A good head and a good heart are always a formidable combination.
(PRWEB) July 12, 2012
PersonalPDFpro a force in PDF software serving the global small, large and home based business community - announcing unlimited images into PDF Team Reports, personal reports, post cards and more. Imagine having the power to create the best PDF documents within minutes and every document created can be personalized to each recipient.
PersonalPDFpro is new on the market. All files are personalized to the recepient and includes powerful spam elimination features. A great technology is the 3D e-book developer feature. Each file is given its own unique link for ease of finding, plus an AWeber and GetResponse link. Each document is stored on line.
Very little experience with PDF's is required to make professional looking files. . PersonalPDFpro provides features allowing blogging and websites to be more interactive with followers. And with personalized PDF's like this, even sale pages can exponentially grow in views.
PersonalPDFpro also offers an affiliate program, using their 1UP compensation plan; earning $197.00 per sale.
What is a PDF file and what can PersonalPDFpro do for Business?
The power of this software is to create PDF's easily. PersonalPDFpro is a very credible home business idea providing a powerful marketing tool, and making your PDF more appealing to viewers. Some of the features included:
-Full Download Directions for Recipients to Save Their PDF Documents
-All PDF Documents Include Direct Links for AWeber and GetResponse
-Build Unlimited Web Forms for Any PDF Report Created
-Every PDF Report Is Fully Integrated With AWeber and Get Response
-Require People to Opt-In To each List Prior To Downloading Reports
-Include PDF Documents into Any Marketing Effort Applied
-Automatic Tracking Of Downloads For Every PDF Document Created
-Edit and Make Changes to Any PDF Document Created At Any Time
-Complete Access to Creating PDF Documents 24 Hours A Day
If a beginner wants to learn and create secured PDF files this is definitely the product. If experienced, still a great product because of all the new and beneficial features. Do not look further than this product!
About:
PersonalPDFpro is the leading software system serving small to large business around the world, and the first to provide user friendly PDF editing, formatting and file creation features. Anyone can join PersonsalPDFpro. Their mission is providing trusted software to its members. Please use the contact information below.
http://personalpdfproreviewed.com Wayne Hartunian 541-368-7437