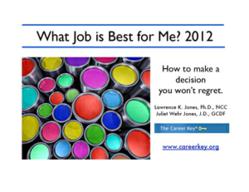 "What Job is Best for Me?" guides people through their career decision, using methods based on the best science and practices of career counseling.
Portland, Oregon (PRWEB) January 26, 2012
Career Key, http://www.careerkey.org, has just updated its most popular e-Book, "What Job is Best for Me? How to make a decision you won't regret." The 2012 edition has been expanded to 97 pages. It guides people through their career decision using methods, information, and techniques drawn from the latest research and career counseling practices. When paired with Career Key's valid career test and unique tools and resources -- career seekers match their strongest Holland personality types to occupations and follow step-by-step advice for choosing the right one.
"What Job is Best for Me?" author, Dr. Lawrence K. Jones, NCC walks readers through the critical four steps for choosing the right career:
1. Consider all the Alternatives,
2. Weigh the Consequences of each,
3. Search for Information about each choice, and
4. Make detailed Plans.
The new edition includes a section, "Choosing a College Major or Training Program" that enables readers to tap into the latest research on personality-major match, using Career Key's unique resources. Choosing a career usually means choosing a program of study. Research shows that the closer individuals' interests and personality match what they study, the better grades they get and the sooner they graduate.
Another new section, "Learning about Training and Education Options," recommends five ways to learn what education and training requirements apply to the careers they are considering.
"What Job is Best for Me?" also gives the reader instructions for creating a Career Portfolio, links to the best Internet career information websites, and unique tips on using blogs, social networking and other online resources to make the best career decision.
Available in The Career Key eBookstore, a single PDF e-book copy of "What Job is Best for Me?" costs $8.95. When purchased together with The Career Key test, it costs $14.95 (20% savings over separate purchases).
About The Career Key®
Since 1997, Career Key has been the #1 Internet source for helping people choose careers and college majors. Advertising and registration-free, it offers a valid career test, information, and advice articles based on the best practices and science in the field. Career Key's author, Dr. Lawrence K. Jones, NCC is a nationally recognized counseling psychologist.
###