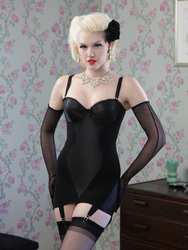 What Katie Did take particular pride in celebrating gloriously curvy women, and have recently dressed the queen of the hourglass figure; Mad Men's flame-haired Joan Holloway herself; who posed for GQ Magazine in dangerously sexy What Katie Did shapewear
(PRWeb UK) September 28, 2010
What Katie Did is a lingerie company with a vision. From their atelier in a sleepy little English village, they design and produce beautiful underwear that screams Golden Era Hollywood glamour, but is made with the modern woman in mind. The aim is simple – to see women of every age, shape and size, look and feel utterly gorgeous, from the inside out. Their stunning creations are cut from whispering satin, tactile lace and strategic powermesh which nips, tucks and smooths; and until now they have been sold from the flagship store in London's historic Portobello Road, as well as hand-picked boutiques across the world. And their UK website has had no shortage of customers, hailing from all four corners of the globe, but there's a lot to be said for shopping closer to home. So now, as the passion for ladylike vintage style grows in mainstream fashion, fuelled by the ever-growing popularity of TV shows like AMC's Mad Men; What Katie Did have answered the siren call of glamour queens across our nation, and have launched a US-based website.
Started with little more than a love of vintage undergarments and a handful of change, which became a small stockpile of seamed nylon stockings, then a unique range of lingerie and corsetry; this niche British brand has now taken the world by storm. Their fabulously pointed, circle-stitched bullet bras have been featured in the pages of Vogue, Elle and InStyle, enhancing the assets of legendary supermodel Claudia Schiffer and Hollywood A-Listers Gemma Arterton and Marion Cotillard. What Katie Did take particular pride in celebrating gloriously curvy women, and have recently dressed the queen of the hourglass figure - Mad Men's flame-haired Joan Holloway herself (also known as Christina Hendricks) - who posed for GQ Magazine in dangerously sexy What Katie Did shapewear. But it's not all about looking good (although it mostly is!) - this is a company who pride themselves on quality, from the construction, fabrics and trims of their comfortable yet timeless designs, to their personal and yes, old-fashioned, standards of customer service.
With a growing number of UK companies like Figleaves and ASOS launching US websites, the time couldn't be better for this well-respected brand to bring their old Hollywood style back to where it belongs. What Katie Did already has already earned the loyalty of their existing customers in the US and now seem set to win the hearts of Americans everywhere with their new site. Visitors in the States who head to http://www.whatkatiedid.com will discover a site with prices in US dollars across the board, a toll-free phone number and a California returns address. Orders are delivered swiftly and safely by FedEx, offering complete peace of mind for shoppers across the country. Classic American looks combined with British efficiency – a truly winning combination!
# # #