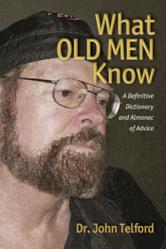 A must read for Sages, Semi Sages or Sages in training.
Sterling Heights, MI (Vocus/PRWEB) March 31, 2011
Author Dr. John Telford, a self-described Septuagenarian Sage, has penned a new tome hewed from the wisdom of the ages. Telford, a human rights legend and a lightning rod for controversy, has spent more than fifty years in various Michigan school systems as a teacher and an administrator. As a young man, Telford was undefeated at 400 meters competing on the U.S. track team in Europe, and he has never run away from any challenge in his life.
Now in his late 70s with a nod toward the wisdom of his father to whom the book is dedicated, Telford opines that his father taught him "histories both ancient and merely old that aren't to be found entirely in books." In 2011 it has become Telford's turn to create a primer for daily living, and it comes complete with a table of topics literally from A-Z that is challenging, sometimes lewd, often bitingly witty, and never dull.
Dr. Wayne Dyer, world-renowned self-help guru says of "What Old Men Know," the pervasive wisdom in this edgily amusing frankly politically skewed yet brilliantly philosophical treatise makes it a must read for Sages, Semi Sages or Sages in training."
It is the kind of book to be left by the bedside, or on the dining room table for conversation that might be exhilarating and sometimes flirtatious but always meaningful.
Bottom line: it is to be devoured, but only gradually and deliciously so that the full import is understood. It is a dictionary that embraces the art of words.
A look inside the book reveals an author whose talent combines a kind of urban street smarts with a professor's view, creating an exercise for the mind that provokes and intrigues. Take for example:
"Pillar of the community: An inveterate advocate of the status quo.
"Language: The apparel of thought."
Housekeeper: A long-term wife with a good divorce lawyer.
"Leadership: The art of getting someone else to do something that you want done because he wants to do it. "
Or perhaps what best describes the author himself:
Social Activist: "A creative insubordinate. Also a true teacher."
According to François La Rochefoucauld, 17th century author who wrote memoirs and maxims, "Old men are fond of giving good advice, to console themselves for being no longer in a position to give bad examples." Telford's own life story can be read in his autobiography, "A Life on the RUN, Seeking and Safeguarding Social Justice." And it is full of examples both to follow and to avoid.
Dr. Telford's books are published by Harmonie Park Press. Review copy available upon request.
###