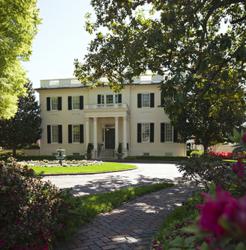 Every year brings new attractions, big renovations and additions - and a significant anniversary or two...
RICHMOND, Va. (PRWEB) December 14, 2012
A vacation in Virginia is all about love, pure and simple states the Virginia Tourism Corporation. Virginia enjoys its well-deserved reputation as a top American travel destination with high-quality experiences that enable visitors to feel completely connected to loved ones. Though millions flock to Virginia each year the Commonwealth never rests on its laurels. Every year brings new attractions, big renovations and additions – and there always seems to be a significant anniversary or two.
In 2013 there's even more love to go around as Virginia celebrates proud milestones and welcomes new members to its family of outstanding things for visitors to enjoy. Here are just a few highlights:
New Experiences, Attractions and Exhibits

The LINCOLN Movie Trail, Steven Spielberg's blockbuster movie filmed entirely in the Richmond/Petersburg area, is packing theaters around the world and heading for Oscar honors come February. The Lincoln Movie Trail pinpoints film locations as well as sites favored and frequented by stars such as Daniel Day-Lewis, Sally Field, Tommy Lee Jones and the producer/director himself. The real Abraham Lincoln visited both Richmond and Petersburg in the closing days of the Civil War. Visitors can follow his historic path afoot or on Segways.
Salamander Resort &Spa makes its much-anticipated debut Summer 2013. Set on 340 acres near Middleburg, the resort will boast 168 luxury rooms and suites, 23,000-square-foot spa, full-service equestrian center, fine dining and 12,000 square feet of conference and event facilities. Owned by Sheila Johnson, founder of Black Entertainment Television, Salamander Resort & Spa is the only luxury resort scheduled to open in the United States in 2013.
Center in the Square, long the hub of cultural activity in downtown Roanoke, will reopen in 2013 after extensive renovation, reconfiguring and basic reinvention. The home for Mill Mountain Theater, the Science Museum of Western Virginia, the Harrison Museum of African American Culture and the History Museum & Historical Society of Western Virginia, will re-emerge after a $27 million do-over with refurbished exterior and redesigned interior, a 5,500-gallon living coral reef aquarium and a green rooftop facility.
The Museum of the Shenandoah Valley in Winchester will host an exhibit in 2013 honoring one of its hometown's favorite citizens, Patsy Cline. Becoming Patsy Cline will focus on the early years of the legendary country singer and first female member of the Country Music Hall of Fame and will run from August 2013 through February 2014. Patsy Cline cut her musical teeth in Winchester, where her home is now a museum. The tragic plane crash that took her life occurred 50 years ago in March. She is buried in Winchester's Shenandoah Memorial Park.
The Virginia International Tattoo is the centerpiece of the annual Virginia Arts Festival and is a spectacle of military pageantry attended by visitors from around the world. In 2013 the Tattoo will add a special Thursday performance to go along with its usual Friday-Saturday-Sunday schedule.
Michelangelo Sacred and Profane, the touring exhibit of drawings of the master artist and architect, makes its only American stop at The College of William and Mary's Muscarelle Museum of Art from February 9th to April 13th, 2013. The exhibit includes 26 original drawings preserved in the family home in Italy, some of which have never before been seen in the U.S.
The President's Photographer: Fifty Years Inside the Oval Office, a National Geographic exhibition featuring dozens of rarely seen images of recent U.S. presidents through the eyes of their official photographers, will be on display at the Virginia Historical Society from March 4 – July 8, 2013. Featuring images taken in tense times and on joyous occasions, the show explores the role of the president's photographer, documenting for history every possible aspect of presidency. The exhibition also includes the National Geographic documentary about Pete Souza, President Obama's chief White House photographer, which will be shown at the top of each hour.
Kings Dominion will open the world's largest Peanuts-themed children's area Spring 2013 with its new Planet Snoopy. The 14-acre area will feature 12 new or re-themed attractions including a monorail, two live shows and an open-air marketplace based on some of the world's most beloved comic strip characters.
While traveling in Virginia, look for giant LOVEworks popping up in cities, towns, wineries and other public places throughout the Commonwealth. New artworks reflecting distinct local cultures and traditions will appear throughout 2013. Why not visit them all?
Major Anniversaries and Annual Events

Virginia's Executive Mansion turns 200: Built during the War of 1812, Virginia's Executive Mansion has set the tone for the hospitality for which Virginia is famous. The Marquis de Lafayette, Winston Churchill and Queen Elizabeth II have all been guests in America's oldest governor's residence still used for its original purpose. Special tours and events will mark the 200th birthday of this historic house which was also used as a film location for Steven Spielberg's movie LINCOLN.
80th Historic Garden Week in Virginia: "America's Largest Open House" celebrates 80 years in 2013 with tours of more than 250 of Virginia's finest historic homes and gardens. From one end of Virginia to the other, local garden club chapters work throughout the year to welcome visitors from around the world.
70th Waterford Homes Tour and Crafts Fair: The oldest juried crafts fair in Virginia celebrates 70 years in 2013. Talented crafters present their wares and visitors may also enjoy tours of historic homes, music and historical interpreters. The entire village of Waterford is a National Historic District.
50th Season Trail of the Lonesome Pine: When the curtain first came up on what is now Virginia's official Outdoor Drama it is doubtful anyone imagined a run going on 50 years. The play shows no signs of slowing down as audiences continue to flock to the June Tolliver Amphitheater in downtown Big Stone Gap to experience a story of turn-of-the-century romance in the Appalachian Mountains.
October Virginia Wine Month is a great time to "discover your local crush." Wine festivals and special winery events take place throughout Virginia, many of which are new each year and help introduce visitors to the "Virginia winery experience." In March participating restaurants and wine shops throughout Virginia observe Virginia Wine Week offering Virginia wine by the glass. It's a good time to try new wines from Virginia and to experience LOVE by the glass.
Cider Week Virginia celebrates the hard cider revival in the Commonwealth. Debuting in November 2012, this week-long event will surely become an annual favorite.
New Wines, Brews and Spirits

Craft breweries are springing up all around Virginia. The craft beer craze has taken hold in a big way and Virginia breweries are bringing home ribbons and medals from world and national beer competitions. Happy brew fans found lots of "LOVE on Tap" in August 2012 during the inaugural Virginia Craft Beer Month. Among the hot new places offering cold brews are Center of the Universe Brewing Company in Hanover, Beer Hound Brewery in Ruckersville, Charlottesville's Champion Brewing Company, Lickinghole Creek Craft Brewery of Goochland and Three Brothers Brewing of Harrisonburg.
Old Hill Cider is just one of a bushel of hard cideries recently opened or soon-to-open in Virginia in 2013. More than a dozen cideries can be found in settings from bucolic back roads to urban cityscapes. In Colonial times apple cider was allowed to turn "hard" in order to preserve it through winter. Today that tradition yields delicious ciders from Virginia's bountiful annual apple crop.
Wine in Virginia continues to make headlines and win coveted national and world ribbons. New wineries such as The Winery at Bull Run join established favorites vineyards totaling now more than 220 in all. Look for new experiences at Virginia wineries as well including oyster pairings, personal blendings, workshops, overnight stays, special events and festivals.
Love is at the heart of every Virginia vacation. Plan your travels at http://www.Virginia.org or call 1-800-VISITVA for a free Virginia is for Lovers Travel Guide. Follow Virginia on Facebook and Twitter.
# # #
Note to media: Images of the LOVE artwork are available for publication at vatravelstories.com, the official pressroom of the Virginia Tourism Corporation.