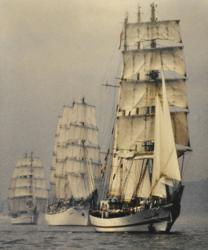 Visitors will find new experiences, exhibits and destinations to completely connect with loved ones on a great vacation.
Richmond, VA (PRWEB) December 14, 2011
Virginia is bursting with new events and openings along with the filming of Steven Spielberg's major motion picture, LINCOLN. Visitors will find new experiences, exhibits and destinations to completely connect with loved ones on a great vacation. Here's what tops the list for what's new in travel for Virginia by the Virginia Tourism Corporation:
Events:

Beautiful masted ships return to Hampton Roads June 6 through 12, 2012. More than 20 ships from around the world join United States Navy ships and local vessels in a salute to the 200th anniversary of the War of 1812. Look for living history exhibits, dinner cruises and special programs. June 6-12, 2012. The Virginia Beach Patriotic Festival, featuring performances by the Blue Angels, kicks things off June 1-3.
Virginia's Historic Garden Week, April 21-28, celebrates its 79th birthday in 2012 by spreading the LOVE throughout Virginia. The Virginia Tourism Corporation's highly popular LOVE marketing campaign has brought three-dimensional LOVE artwork to communities and welcome centers throughout Virginia but Historic Garden Week will take it to a grass-roots level. In historic Fredericksburg the Rappahannock Valley Garden Club has spelled out LOVE in a giant flower bed at a major highway intersection – the better to remind drivers that LOVE is at the heart of every Virginia vacation.
Anniversaries:

2012 is a key year for Civil War history in Virginia with the 150th anniversaries of major battles and campaigns including the naval battle of the USS Monitor vs. CSS Virginia (March 9), the 1862 Shenandoah Valley Campaign (May-June), the Seven Days Battles (June-July), the Battle of Second Manassas (August 28-30), and the Battle of Fredericksburg (December 13). The 150th anniversary of Lincoln's issuing of the Emancipation Proclamation occurs September 22. The 2012 Virginia Civil War 150 Signature Conference takes place at the Virginia Military Institute on March 22. The 18-wheel Virginia Civil War 150 HistoryMobile will tour throughout Virginia and selected out-of-state sites and events. Virginia Tourism Corporation has unveiled a dynamic new Civil War web site focusing on stories of real people in Virginia during the war – Walk in their Footsteps (http://www.walkintheirfootsteps.com).
Williamsburg Inn 75th Anniversary – Colonial Williamsburg
The Williamsburg Inn celebrates its 75th anniversary in 2012. Built in 1937 by John D. Rockefeller, Jr., and Abby Aldrich Rockefeller, it is the only hotel in North America in which Queen Elizabeth II has stayed twice. With 62 beautiful rooms and an array of choice amenities the Williamsburg Inn has won nearly every award in the book.
Built in 1813, Virginia's Executive Mansion was the second governor's residence constructed in America and remains as the oldest governor's residence still used for its original purpose. In his last official act as governor, future president James Monroe directed the Virginia General Assembly to authorize construction of a new governor's residence. Since then it has served as home to 54 Virginia governors and has hosted figures of worldwide fame including Winston Churchill and Queen Elizabeth, II.
Major Motion Picture - LINCOLN:

LINCOLN comes to Richmond and Petersburg
Legendary film producer and director Steven Spielberg selected the cities of Richmond and Petersburg as locations for the filming of his biopic LINCOLN, starring Daniel Day-Lewis, Sally Field and Tommy Lee Jones. Filming has taken place throughout the fall of 2011 and the movie is scheduled for theatrical release in late 2012. The settings are appropriate as Abraham Lincoln made several visits to Virginia during the Civil War. A walking tour traces the route Lincoln took through downtown Richmond. The City Point Unit of Petersburg National Battlefield preserves the site of the headquarters of Union general Ulysses S. Grant, a site also visited by Lincoln during the Petersburg Campaign of 1864-65. Virginia commemorates the 150th Anniversary of the Civil War and Emancipation through 2015.
New Openings:

The largest stone fort ever built in America became a part of the National Park System on November 1, 2011, after more than 150 years as an active army post. During the Civil War the fort became a place of refuge for escaping slaves and was known as "Freedom's Fortress." Confederate president Jefferson Davis was imprisoned in one of the casemates after his arrest on treason charges. Tree-lined avenues with brick officer's residences reflect the elegance of military brass.
Museum of the Confederacy – Appomattox
Tracing its roots to 1896, the Museum and White House of the Confederacy, moc.org, in Richmond today welcomes more than 70,000 visitors annually. The 150th Anniversary of the Civil War and Emancipation has brought a new opportunity for the museum to expand its presence and reach a greater audience when it opens the doors on a second facility in Appomattox in Spring 2012. The $7.5 million museum, featuring 5,000 square feet of exhibit space, will focus on events surrounding the end of the Civil War, the surrender at Appomattox and the reunification of the country. Artifacts associated with those events will be moved to the Appomattox site including the uniform and sword Robert E. Lee wore when he surrendered his army to Ulysses S. Grant.
Since 1938 the Williamsburg Pottery has been a shopping destination for those looking for a wide variety of items at bargain prices. On April 5, 2012, "the pottery" will be reborn with a half-mile of new buildings, more than 160,000 square feet of shopping space and a new café, restaurant and bakery. The new facility will emerge as sophisticated yet casual experience that combines the charm and tradition of a European market with the conveniences and sensory experiences with 21st- century shopping.
The modest white house that American music legend Patsy Cline lived in from ages 16 to 21 opened to the public in August 2011. The house has been furnished with period pieces (including some originals) from the 1940s and 1950s and appears almost exactly as Patsy Cline would have known it. Guided tours reveal much about the woman born Virginia Patterson Hensley who took American popular music by storm with iconic hits such as I Fall to Pieces and Crazy.
Beautiful new facility adjacent to I-81 is the gateway to the rich culture of Southwest Virginia including music, food and wine and crafts. Artisans and musicians working on site. Interactive exhibits, galleries, shop, restaurant, coffee/wine bar. Opened summer 2011.
Already established as one of the top woodland resorts in America, Primland now offers a lodging experience that is distinctly its own. The Golden Eagle Tree House was designed by La Cabene Perchee, one of the world's top tree house architectural firms. The house itself sits in the boughs of one of Primland's oldest and most beautiful trees – without the intrusion of one single nail – and overlooks the Dan River Gorge. The red cedar tree house features a king bed, huge deck and all the luxurious amenities found at Primland's main lodge.
New Exhibits:

Virginia will welcome the legendary Space Shuttle Discovery, the longest-serving orbiter in the NASA space shuttle fleet in Spring 2012 at the National Air and Space Museum – Steven F. Udvar-Hazy Center. Discovery replaces the Space Shuttle Enterprise, which has been seen by nearly nine million visitors since the center opened in 2003 and will be moved to a new home. Among its 39 missions Discovery was flown by the first African- American commander and first female commander in NASA history and was also the shuttle on which Sen. John Glenn flew in 1998 at age 77.
The 17th Century: Gateway to the Modern World special exhibition, developed by the Virginia Museum of Fine Arts in cooperation with the Jamestown-Yorktown Foundation, explores transition from the "old" world to a new globally connected world. November 16, 2011 – August 15, 2012.
Andy Warhol Portraits – Virginia Museum of Contemporary Art, Virginia Beach
Andy Warhol transcended art and became a phenomenon in the 1970s. The MOCA, cacv.org, will host an exhibition of the reclusive artist's portraits May 24 – August 19, 2012. Included will be studies in screen prints, drawings, paintings, Polaroid photography and vintage family photos.
Fifty-six black-and-white photographs capture Elvis Presley, the rising King of Rock and Roll, in 1956 at age 21 just before he burst onto the worldwide rock and roll scene. Several of the dramatic images were taken in Richmond during Elvis' performance at what is now the Landmark Theater including one entitled "The Kiss" – an intimate moment between Elvis and a local Richmond woman. Exhibit runs December 24, 2011, through March 18, 2012.
Wine and Spirits:

Virginia's wine industry has grown by leaps and bounds in recent years both in prestige and in numbers of wineries. Virginia now has more than 200 wineries – and counting – with locations in nearly every part of the Commonwealth. Virginia's wines are gathering an increasing number of medals and ribbons and national and international competitions but it is the winery experience that sets it all apart. From great restaurants to overnight accommodations to wine camps and private label bottling, Virginia's wineries offer a limitless way of enjoying a day (or night) in the vineyard. Virginia.org/wine
One of the world's premier names in luxury hospitality has come to Virginia with the purchase the former Kluge Estate Winery near Charlottesville by renowned entrepreneur Donald Trump. The new Trump Winery is beautifully situated on 900 rolling acres just down the road from Thomas Jefferson's Monticello and produces outstanding wines. The facility provides a memorable visitor experience and is also in demand as a venue for weddings and special events.
Bowman Distillery's status as a producer of fine, hand-crafted, small-batch spirits is unquestioned. For those wishing an up-close and behind-the-scenes look at the fascinating process of producing distilled spirits the facility now offers free public tours and tastings Monday through Friday at 10:00 a.m. and 2:00 p.m. No reservations are necessary but you must be of legal drinking age (of course) to participate in the tastings at the end of the tours.
Getting Around:

Virginia's Route 16 is a two-lane journey through some of the most breathtaking mountain scenery in the eastern United States. Because it winds its way along the crests of three mountains it has gained the nickname "Back of the Dragon. A new web site promotes the route to motorcyclists, sports car enthusiasts and nature lovers.
Route 151 runs the length of the beautiful Rockfish Valley just east of the Blue Ridge Mountains in Nelson County. A group of seven wineries and two craft breweries along that route have formed a marketing partnership and launched an attractive new web site, Nelson151.com, to provide a cohesive guide for travelers. The area is perfect for day trips or overnights, with memorable visits to the wineries and breweries along with orchards and farms, bed and breakfasts, small town shopping and some of Virginia's best outdoor recreation sites.
Trolleys have returned to the historic streets of Richmond and are providing entertaining guided tours focusing on the best of Virginia's capital city. Seasonal tours include on the 35-passenger vehicles include holiday lights excursions while throughout the year visitors can sit back and enjoy expeditions into the past of one of America's most historic cities.
Space Tourism:

NASA's primary facility for sub-orbital missions is a perfect place to watch a thrilling live rocket launch. The Visitor Center has kid-friendly exhibits and an observation deck. Check the facility's web site, sites.wff.nasa.gov/VC, for launch schedules.
Love is at the heart of every Virginia vacation. For more information on travel in Virginia, visit Virginia.org or call toll free 1-800-VISITVA for a free Virginia is for Lovers Travel Guide.
###