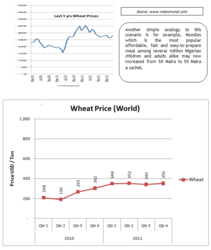 We have agreed to increase the price of bread by 10 per cent - Lateef Oguntoyinbo, Lagos State chairman of the AMBCN
(PRWEB) August 17, 2012
According to a report from the Nigerian State Import Bureau, these new duties will increase price of staple food items such as bread, spaghetti, noodles, pastries and allied product made from wheat flour.
The reason posted for the increase in the duties on these commodities was to promote the usage of cassava flour which is locally produced. According to the government, this will lead to a marginal growth in the country's gross domestic product (GDP) and save the country some earnings by reducing importation.
Bakare Soyinka – thought leader in procurement industry explained that there was no way the country could experience the desired growth in the face of unbridled importation of consumer items and specifically stated that jacking up of the duties was intended to challenge Nigerian farmers on the need to work harder so that Nigeria can become sufficient in food production.
Bakare points out that more than 80% Nigerians live below a dollar per day and the implication of this new import duty regime would increase the cost of production of staple food items like bread, instant noodles, spaghetti, biscuits and the different pastries which were hitherto relatively affordable invariably lead to an astronomical increase in the prices of the products. For instance, a loaf of bread that is currently sold at 100 naira will jump to between 130 and 150 naira. A pack of Spaghetti which is sold at an average of 100 naira and capable of feeding a small family is likely to increase to 120 naira. A pack of Biscuit which is sold at an average of 10 is likely to increase to 15 naira or thereabout.
Some of the pasta players like Golden Penny and Dangote has already increased prices for their spaghetti brands.
Lateef Oguntoyinbo, lagos state chairman of the association of master bakers and caterers of Nigeria (AMBCN) told: "We have agreed to increase the price of bread by 10 per cent."
According to the bakers, while the official price of flour from the flour mills is over N 5,400 per 50kg bag, the ordinary baker does not have access to the flour mills and so will have to buy from middlemen for between N 5,450 and N 5,500 per bag. A 50 kg bag of sugar now sells for N 10,600.
"When you quantify that and other ingredients such as yeast, salt, flavor, as well as staff salaries, you'll find that not much profit is made at the end of the day," he added.
Players in the industry have, for a long time, being on the edge over rising cost of ingredients needed for the production of bread and other confectioneries. As a result, many small scale bakers have been compelled to abandon baking for commercial motorcycling business.
Bakare also learnt from Industrial researchers that the inclusion of 5 percent cassava flour in wheat flour could lead to a drop in the cost of baking flour.
Source:
http://bakare-soyinka.blogspot.com/
http://www.nipc.gov.ng
http://www.cbn.gov.ng/OUT/2012/CIRCULARS/GOV/TED-FEM-FPC-GEN-01-005.PDF
http://allafrica.com/stories/201207180873.html