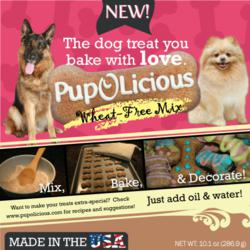 We will continue to expand our store as demand for our product continues to grow.
Quincy, IL (PRWEB) May 30, 2013
Pupolicious is now providing a wide selection of healthy dog treat mix, including the mix itself, a dog treat package, holiday dog treat mix and packages. Plus their store has expanded to include new holiday shaped cookie cutters and their number one product the wheat-free mix, wheat-free package and wheat-free refill mix. When we say package, you get the mix, the healthy icing and a cookie cutter as well.
"Our new expanded store contains all of the same products with natural ingredients, however we have expanded to carry new items," said Teresa Koch, CEO of Pupolicious. "We continue to include our icing mix which contains only natural ingredients and we have added new cookie cutters to make the baking more fun for the kids in the family." She went on to say, "The kids in the family seem to enjoy baking for their dogs, almost as much as the puppies love eating the treats; it is real family fun."
Pupolicious, healthy dog treat maker, provides many homemade dog treat packages that have no artificial additives or preservatives. They include wheat free dog treats and gluten free dog treats. Each package also comes with healthy icing for the dog biscuits and a bone shaped cookie cutter. If you order the holiday package you will receive a holiday related cookie cutter that is great for the Christmas season.
"We will continue to expand our store as demand for our product continues to grow," Said Teresa. "We have seen tremendous excitement for our gluten free and wheat free dog treats, because so many dogs have allergies. We realized that most owners don't know this or are just finding out that their dogs have these allergies to the food and treats that they eat everyday."
About Pupolicious:
Pupolicious produces healthy dog treats that are made at home by pet owners. New products include gluten free dog treats and wheat free dog treats. These homemade dog treats can be ordered online at Pupolicious.com. Each package includes a bag of mix, a cookie cutter and easy-to-follow directions. Customers mix and bake the snacks at home, and can decorate the bone-shaped treats with colored icing.
For further information, please visit Pupolicious online or call 217-214-7137.