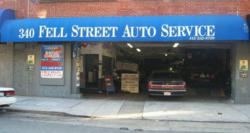 At Fell Street Auto Repair, we have built a reputation as one of the premier auto service and repair shops in the San Francisco Bay Area
San Francisco, CA (PRWEB) February 10, 2012
Starting in February, San Francisco wheel repair shop, Fell Street Auto Repair, located at 340 Fell St., will feature a free tire rotation with the purchase of an oil change, costing $29.98, tax included. This offer provides a great deal for those already in need of an oil change for their car.
Engine oil is the lifeblood of a car's engine. It reduces friction, lessens wear, provides lubrication, forms a seal between the pistons, rings and cylinder walls, and helps cool engine parts. Without the cleaning action of new oil, carbon and varnish buildup would be toxic to the engine. Engine oil also dampens the shock and noise of moving parts.
Tire rotation is the practice of moving automobile wheels and tires from one position on the car to another, thus ensuring even tire wear. Even tire wear is desirable to maintain consistent performance in the vehicle and to extend the overall life of tires.
"At Fell Street Auto Repair, we have built a reputation as one of the premier auto service and repair shops in the San Francisco Bay Area," Myron Kuang of Fell Street Auto Repair said. "We specialize in providing auto repair services for all makes and models."
For more information about the promotion or any of Fell Street Auto Repair's products or services, call 415-529-4514, view the automobile repair company on the web at http://www.fellauto-sf.com or visit 340 Fell St. in San Francisco.
About Fell Street Auto Repair
Fell Street Auto Repair is proud of the professional reputation it has built during years of serving the automobile repair needs of San Francisco and the surrounding communities. The automobile repair company specializes in servicing all makes and models of cars, as well as provides computer diagnostics, smog checks, and auto and body repairs. San Francisco brake repair shop, Fell Auto Street Repair consistently invests in state-of-the-art equipment and technology to stay ahead in the auto repair industry.
###