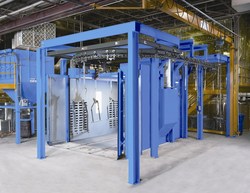 LaGrange, GA (Vocus) February 17, 2009
Manual Airblast Rooms and Components are an essential product in the extensive new line of environmentally-sound blast systems offered by Wheelabrator Group. Airblast rooms are available with a variety of options to meet the specific needs of each customer, ensuring the highest level of reliability, productivity and cost-effectiveness. Rooms are engineered to work within existing facilities and meet all material handling requirements.
Wheelabrator® Airblast Rooms provide lighting levels that exceed industry norms by at least 50%. The six fluorescent light tubes increase the amount of light in each booth, providing excellent operator visibility and resulting in increased productivity levels.
Wheelabrator offers several options for work doors including swing, bi-fold and powered roll-up type. Each work door design is tailored to the needs of the specific blast operation. Man doors are strategically placed for quick operator exit and include vision windows for safety. Booths can also be designed for "in-out" or "flow-through" of work. The "in-out" option uses the same door to for the introduction and removal of work projects, while the "flow-through" option provides specific ' entry' and 'exit' doors. These unique airblast rooms can also be designed to accommodate monorail systems, hoist beams or existing plant cranes.
Another selling feature of Wheelabrator Airblast Rooms is the abrasive reclaim module. This environmentally-responsible module reclaims abrasive for re-use through a separation system that is able to handle most dry abrasives. Units can be equipped with full floor or partial floor recovery systems that may be custom-designed to suit the customer's work and media handling needs. Careful consideration is given to EPA and OSHA standards in the design of each Wheelabrator Airblast Room and Component, ensuring overall safety and proper ventilation.
Wheelabrator Group is a global provider of surface preparation and finishing solutions. Committed to offering the broadest array of technologies, products, services and technical know-how, the Wheelabrator Group works closely with customers to deliver the best solutions for their specific requirements. The company's strategically located and electronically linked offices allow Wheelabrator Group to provide unrivaled customer service and support worldwide. For more information on Wheelabrator, visit the web site at http://www.wheelabratorgroup.com.
Wheelabrator products are protected by patents issued and pending in the United States and other countries. Wheelabrator reserves the right to change the specifications referred to in this literature at any time, without prior notice. Wheelabrator is a registered trademark of Wheelabrator Technologies Inc.
FOR FURTHER INFORMATION:
Pamela Akin
Marketing Manager
Wheelabrator
800-544-4144, ext. 2295
MEDIA CONTACT:
Laura Everett
Flammer Relations, Inc.
770-383-3360
###