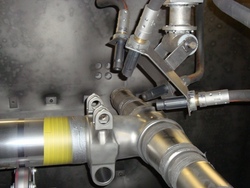 Burlington, ON (Vocus) March 4, 2009
The new Wheelabrator® Automated Airblast, Wheelblast and Hybrid peening systems offer comprehensive solutions for aerospace applications. When comparing like solutions, consider the sophisticated, yet easy-to-use, operator interface and touch screen controls that provide access to real-time process data, trending and analytical capabilities of Wheelabrator equipment. Whether blast wheels or numerically-controlled nozzles, both propulsion techniques allow for optimum peening in select areas.
Landing gear peening can be accomplished with blast wheels for large external part areas and lance style nozzle (airblast) to target internal areas, or a custom hybrid constructed in a common enclosure. Tailoring a system to a customer's specific needs can represent a considerable cost-savings in (1) equipment, and (2) reduction in work handling. From wing spars and engine components to landing gears, a Wheelabrator Automated Peening system can be configured to suit most aerospace peening requirements.
High-carbon alloy landing gears require processing in compliance with specifications comprising critical tolerances. These parameters are met with an optimum mix of machine sub-components, peening media, electrical and pneumatic control circuits. Overhauling landing gear requires re-building the surface and peening to protect from failure due to fatigue stress. The Automated Airblast Peening System can adapt to different media types, classify for the right media size, shape, flow rate, and peening pressure to ensure consistent peening results.
Wheelabrator Group is a global provider of surface preparation and finishing solutions. Committed to offering the broadest array of technologies, products, services and technical know-how, Wheelabrator Group works closely with customers to deliver the best solutions for their specific requirements. The company's strategically located and electronically linked offices allow Wheelabrator Group to provide unrivalled customer service and support worldwide. For more information on Wheelabrator, visit the web site at http://www.wheelabratorgroup.com.
Wheelabrator products are protected by patents issued and pending in the United States and other countries.
Wheelabrator reserves the right to change the specifications referred to in this literature at any time, without prior notice.
Wheelabrator is a registered trademark of Wheelabrator Technologies Inc.
FOR FURTHER INFORMATION:
Pamela Akin
Marketing Manager
Wheelabrator
800-544-4144, ext. 2295
MEDIA CONTACT:
Laura Everett
Flammer Relations, Inc.
770-383-3360
# # #