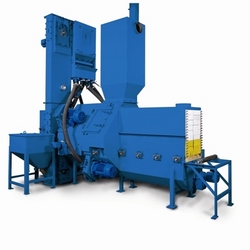 Burlington, ON (Vocus) March 12, 2009
Ideal for today's structural fabricator looking to improve their surface preparation needs, the new Wheelabrator® Model 1824 Structural Pre-Blast Roll Conveyor Machine provides the best shot blasting solution. The positioning of the four blast wheel assemblies allows this system to provide a flexible surface preparation method for a variety of structural shapes prior to fabrication. Pre-Blasting reduces 'wear and tear' on the company's cutting tools, including band saw blades and drill bits.
With an 18"x24" cleaning envelope, a variety of structural components such as square and rectangular tubing, angular shapes, and, I and H beams can be fed for blast cleaning. Built with a wear resistant manganese blast compartment, the Model 1824 Roll Conveyor comes equipped with four 10HP direct drive blast wheels, cast manganese wheel housings and cast manganese rolls in the blast zone. Replaceable manganese liners are conveniently placed in line with the blast wheels, providing ease of replacement when necessary.
Installation of the Model 1824 Structural Pre-Blast Roll Conveyor can be tailored to each customer's facility. Variable speed work conveyor drive controls, compensating flow air wash abrasive separator, and elevator belt with cast iron buckets are some of the key features of this system; that contribute to an efficient and productive operation. Additional options such as external entrance and exit roll conveyors, abrasive return spill hoppers and cartridge dust collectors can be tailored to customers' specifications.
With every installation, the Wheelabrator Plus program offers customers the ultimate support services (standard and customized) to maximize the potential of their blast equipment investment. Training, system upgrades, implementation of maintenance programs, and an extensive inventory of replacement parts provide a 'peace of mind' for the customer's purchase choice.
Wheelabrator Group is a global provider of surface preparation and finishing solutions. Committed to offering the broadest array of technologies, products, services and technical know-how, the Wheelabrator Group works closely with customers to deliver the best solutions for their specific requirements. The company's strategically located and electronically linked offices allow Wheelabrator Group to provide unrivalled customer service and support worldwide. For more information on Wheelabrator, visit the website at http://www.wheelabratorgroup.com or e-mail info (at) wheelabratorgroup (dot) com.
Wheelabrator products are protected by patents issued and pending in the United States and other countries.
Wheelabrator reserves the right to change the specifications referred to in this literature at any time, without prior notice.
Wheelabrator is a registered trademark of Wheelabrator Technologies Inc.
FOR FURTHER INFORMATION:
Pamela Akin
Marketing Manager
Wheelabrator
800-544-4144, ext. 2295
Pam.Akin (at) wheelabratorgroup (dot) com
MEDIA CONTACT:
Laura Everett
Flammer Relations, Inc.
770-383-3360
Laura (at) flammerpr (dot) com
# # #