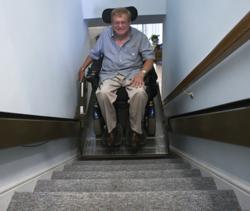 "It's a lot more durable of a wheelchair lift and it's so much safer for me."
Lewisberry, PA (PRWEB) July 05, 2012
David Hallis, of St. Paul, Minnesota, hasn't had a single service issue since his Butler Mobility inclined platform wheelchair lift was installed in his home. His previous lift would constantly get stuck and he found himself always calling the company.
"My other wheelchair lift, it took quite awhile to get all of the bugs out of it, for it to settle down, where I wasn't calling to say that I was stuck on the lift," he said.
Equal Access installed the Butler platform wheelchair lift for Mr. Hallis, which has helped him navigate his home safely.
"It's much better because it's a lot more durable of a wheelchair lift and it can take more weight on," he said. "It's so much safer for me."
It is also helping to ease the work of his home health aides.
"My old wheelchair lift, when I had to go out into the weather and it was raining or snowing, sometimes my aides would have to shovel the snow off my ramp that I used to go from the upper ground to the lower ground level," Mr. Hallis explains.
The new wheelchair lift saves him time moving from level to level, as well. "I save a lot of time, as far as getting down to my bathroom and my exercise room."
Pleased with the product, he said he would recommend the inclined platform wheelchair lift to others, because of the durability, and also because of its appearance.
"I would highly recommend it to everyone that needs a wheelchair lift," he said. "It's a very attractive lift; it's not a hideous looking thing. It's got some really good looks to it."
Visit http://www.butlermobility.com for more information