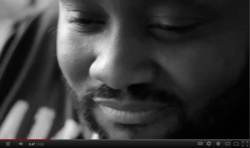 As a wheelchair user since age 8, I am photographer who has a different a perspective on how I visually see life. Allowing me to never accept the whys as excuses and going for why nots as the challenges in order to overcome to them, as seen in my work.
Philadelphia, PA (PRWEB) October 03, 2012
Hope spreads. Jaleel King's inspiring story of surviving a shotgun blast at the age of 8 to becoming a photographer is proof. Neither Jaleel King or Mike Allebach, the first time filmmaker and tattooed bride photographer, had any idea the video would go viral. As soon as the short film was posted it spread quickly through facebook with 5,000 people viewing the film within the first 48 hours on Vimeo.
Jaleel King and Mike Allebach teamed up for a filmed conversation at Blue Fin Sushi outside of Philadelphia. Neither of them had any idea of the significance of their sushi chat. There was no lighting equipment, only a small Nikon D600 video camera and a $30 Radio Shack mic. In between bites of spicy tuna and ginger salad, Mike interviewed Jaleel on photography, hope and growing up wheelchair bound.
In the short film Jaleel is shown in a photo as a young child one month before the shooting. And then he shares the terrifying story. Fear grips Jaleel's face as he talks about trying to escape the neighbor with a sawed off shotgun.
"I guess in my head I thought I was running one way, but in reality I was running towards danger."
And Jaleel brings hope sharing his journey to becoming a professional photographer. "… next week is a new week … At some point, it will get better."
Mike explains about what prompted him to start this project, "Jaleel's smile, spirit and outlook is infectious. Finally it got to the point where I couldn't hold back. This story of inspiration needs to be shared! One day Jaleel will be speaking at TEDx events and standing in front of hundreds of photographers telling his inspiring hope story. I hope the video can make that happen."
Celebrity photographer Jeremy Cowart shared the story on twitter saying, "Pls take a minute to watch this extremely inspiring video of Photographer and @Help_Portrait participant @JaleelKing"
Kyle Chowning Co-founder of Help-Portrait fired back on Twitter "3 years ago I helped launch a worldwide movement: @help_portrait. Stories like these keep me going year after year"
Comments came in from around the world and as far as Cairo, Egypt.
"Every so often we all need to refill our motivational gas tank to keep us going. This 4-minute video of photographer Jaleel King will do just that for you" - Fstoppers.com
"We all spend our day to day trying to overcome our problems. Then I watch Jaleel and pause..." - Jason Groupp
Mike Allebach and Jaleel King met 3 years ago volunteering at Help-Portrait Philadelphia, giving free portraits to low income and homeless families. They have been friends ever since. This is Mike's first independent short documentary. Living right outside of Philadelphia, Mike Allebach is Philadelphia's Tattooed Bride Photographer at Allebach Photography. Jaleel King resides in Philadelphia and is over at JaleelKing.com Photography with the motto, "has wheels, will travel."