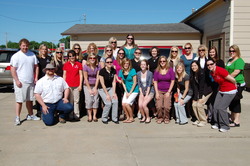 It's always an enjoyable experience to have OT's and PT's come out and see what we do day-to-day
Tea, South Dakota (Vocus) June 23, 2010
The University of South Dakota (USD) occupational therapy class of 25 students visited IMED Mobility on Friday, June 18 to learn more about wheelchair accessible vans.
Since occupational therapy is based on encouraging and helping people overcome mental and physical challenges, visiting IMED provides students with knowledge of handicap accessible vans, scooter and wheelchair lifts, hand controls, and the many types of modifications added to meet the clients mobility needs. In this class, students are learning about assistive technology such as alternative communication systems and adaptive equipment for everyday tasks like riding a vehicle.
"It's always an enjoyable experience to have OT's and PT's come out and see what we do day-to-day," Bob Lundin, President of IMED Mobility said. "Often times they are unaware of the accessible options that exist today."
Stacy Smallfield, USD associate professor, enjoys bringing her students to learn about the most up-to-date information. "One of the things we do in this class is provides active learning," Smallfield said. "The more hands on learning we provide, the more sense it will make to them."
This is the fourth year Smallfield has brought her students to IMED. Today, mobility consultants Carrie Anema and Jon Becker, and President of IMED Mobility Bob Lundin, split the students up into three groups. Two groups learned about accessible vans and conversions, while the other group went to the shop to see how the vans can be converted.
Anema said it's a fun activity for IMED to do each year. "It's a win-win situation on both sides," she said. "We both make great contacts and hope that they refer people to us in the future."
IMED Mobility
IMED Mobility is a leading Midwest provider of wheelchair accessible vans and other mobility solutions for those with disabilities. We offer our customers access to an enormous inventory of wheelchair accessible van rentals, enabling you to gain greater mobility and increase your quality of life. IMED Mobility is committed to providing those with disabilities, as well as companies that provide assistance to these persons, with the vehicles necessary to ensure a high quality of life and enormous convenience. For more information visit http://www.imedmobility.com/
###