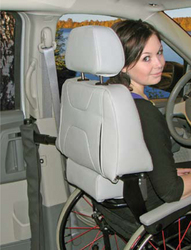 These are new and innovative products being brought to the mobility market
Wall, NJ (Vocus) June 22, 2010
Monmouth Vans recently announced that they will be an exclusive dealer in the New Jersey area for the Bakk Flip & Lokk Up Wheelchair Restraint System. The product was designed and crash test certified in Sweden to the ISO 10542 standards at Volvo's Safety Lab and is new to the United States as of May 1.
"These are new and innovative products being brought to the mobility market," Ray Morton of Monmouth Vans said. "We anticipate many new installs as well as retro-fitting existing systems due to the high quality and increased safety margin they provide."
Brian Satran, President of Mercury Dynamics LLC and the distributor of the product, chooses select dealers across the country to carry the Bakk Flip & Lokk Up. "I chose to work with Monmouth Vans because of their industry reputation and expertise," Satran said. "I've always known them to be a highly respectable mobility company that supplies good products and more importantly, exceptional service to their customers."
Satran sought to bring the Bakk Flip & Lokk Up to the United States because the innovation of an automatic four-point lock down system and supporting backrest which does not currently exist in the U.S. Most lock-down systems are a single-center mount. The Lokk Up system secures the chair on all four points and then the Bakk Flip automatically moves in behind the wheelchair, providing head neck, and back protection in the event of a crash.
As a 15 year-old-girl, Jasmine Jungestedt never imagined how much her life would change after suffering a spinal cord injury in a diving accident in 1999. After 10 years of rehabilitation and driver's training, Jungestedt earned her license in 2009. Shortly thereafter, Jasmine purchased a wheelchair accessible van and had Bakk Flip & Lokk Up Wheelchair Restraint System installed.
"I like the fact that the Bakk Flip & Lokk is so safe and practical and it allows me to be independent within my daily life, I consider it the ultimate solution for a vehicle user in a manual wheelchair," Jungestedt said. "I just roll into my vehicle with no fuss secure in, and I'm on my way."
This device can easily be installed in all makes and models of lowered floor minivans, and full size vans. Bakk Flip & Lokk Up are designed to be used together but can also function with other docking devices on the market. The invention will be showcased at upcoming mobility expos and conferences. More information about the product can be found at http://www.lokkup.com or contact Brian Satran at [email protected]
For further information about Monmouth Vans visit http://www.monmouthvans.com/.
About Monmouth Vans: Monmouth Equipment and Service Co.Inc., established in 1983 has become one of the largest providers of mobility products in New Jersey through two (2) separate operating divisions. Monmouth Vans Access & Mobility which provides modified vehicles and custom vehicle modifications. Garden State Scooters established in 1999 which provides for personal mobility products such as scooters, wheelchairs, stair lifts, and other lifting products and services.