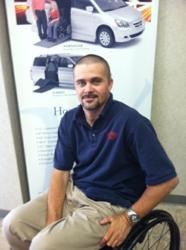 I am happy to be part of the team here at R&R Mobility!
Atlanta, Georgia (PRWEB) September 29, 2011
R&R Mobility, one of the Southeast's leading providers of handicap vans, wheelchair lifts and other mobility equipment, has today named Jason Scott as a their new Service Advisor. The dealership is happy to bring Jason aboard to help ensure better customer service and satisfaction.
As a Service Advisor, Jason will be responsible for liaising with customers as they arrive to have service or maintenance performed on their wheelchair van or mobility equipment. Jason will answer questions, suggest services, order parts and more. As a Service Advisor, Jason will help to make each customer's visit more enjoyable, shorter and easier. Streamlining the entire service process from the initial call to completion ensures that all customers of R&R Mobility have the best experience.
In many ways, Jason Scott is the ideal candidate for the position. Not only has he had extensive experience in customer service, but he has also been a longtime customer of R&R Mobility. This gives him enormous insight into how to better serve customers' needs and streamline the various processes in play. It also means that Jason understands firsthand the challenges that can be present for a customer, simply trying to bring their wheelchair accessible van in for service.
Jason is proud to have earned the position with R&R Mobility, and states, "I am happy to be part of the team here at R&R Mobility! I will strive to help them provide the best service in the industry."
This is only one more way in which R&R Mobility proves their dedication and determination to give their customers every possible advantage. From providing state of the art wheelchair vans and mobility equipment to industry-best service and customer care, R&R Mobility goes the extra mile.
To find out more about the services on offer at R&R Mobility or to make an appointment to view a new wheelchair van, visit http://www.RRVan.com.
About R&R Mobility: R&R Mobility is an established company dedicated to providing those with physical disabilities the freedom available only through greater mobility. Through professional training and corporate partnerships, R&R Mobility is able to help disabled persons regain a sense of independence and control within their lives.
###