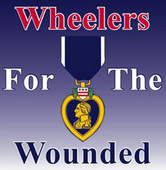 The need has never been greater to support our American war wounded.
Houston, TX (PRWEB) April 30, 2013
May 4th in Marble Falls will be the Wheelers for the Wounded big annual event which was started 5 years ago as a nonprofit whose purpose is to provide our nation's wounded with assistance, support, and recreation. Soldiers from Ft. Hood, Brooke Army Medical, the Houston V.A. and some as far away as California will come together at Hidden Falls Adventure Park in Marble Falls Tx. to enjoy a full day of off road fun, food and camaraderie. Many of these wounded soldiers are amputees, have suffered traumatic brain injuries, some will have PTSD but all will get to experience the fun and enjoyment that this event provides.
Wheelers for the Wounded was initially started in Florida and many chapters were started but the Texas Chapter is the only one still in existence. Their success has to do with the tremendous commitment from a large number of volunteers, many of them former and active military and corporate sponsorships from companies like 4 Wheel Parts and Northwest Dodge. WFTW understands that the need has never been greater to give back to those that have given so much; in October of 2013 it was reported that over 50,000 Americans have been combat wounded, over 16,000 severely wounded and 43,000 being diagnosed with Traumatic Brain Injury and the Department of Veterans Affairs is processing 4,000 new cases of PTSD each month.
The Main Event on Saturday May 4th will begin at 9:00am with volunteer drivers, guides, and support personnel getting the courses setup and drivers assigned and then busloads of wounded soldiers and some of their family members will arrive at 11am for a day of offroading fun. Medics and EMT personnel will be on hand and each soldiers condition is evaluated prior to them going out to ensure that they have fun without any risk to them. The public is welcome to come be part of this event.