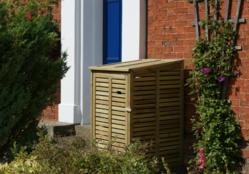 (PRWEB UK) 16 October 2012
Outside storage is often an overlooked area and the rise in numbers of household and garden vermin is a real problem. The wheelie bin cover is a simple but effective solution to instantly screen and disguise bins and are designed with functionality in mind.
Householders are constantly looking for easy solutions to keep bin areas tidy, have convenient garden storage options; all in an environmentally friendly way. The Garden Furniture Centre Ltd wheelie bin covers are very easy to assemble as they come flat-packed for convenience.
The make-up of the wheelie bin covers is sturdy, when following the simply instructions, meaning that once placed in a convenient location it should last for many years. The wooden covers are made with FSC pine.
The Forest Stewardship Council (FSC) is the most respected forestry standard-setter in the world and provides approved certification. Environmentally appropriate forest management ensures that the harvest of timber and non-timber products maintains the forest's biodiversity, productivity, and ecological processes. Economically viable forest management means that forest operations are structured and managed so as to be sufficiently profitable, without generating financial profit at the expense of the forest resource.
The company's wheelie bin covers come in three convenient sizes. There is a single version along with a double and triple cover to suit various numbers of bins. Although tailor-made for wheelie bins, the covers provide excellent garden storage for logs and other outdoor equipment. The covers are especially useful for when the weather turns colder in autumn and winter when protection of garden accessories is a must to help prevent deterioration.
For convenience, each wheelie bin cover has an option to be stained or painted to match the householder's exterior décor. Security has also been catered for as each cover can be locked at the lid. With top lid locked, it helps to protect the owner from any possible fly-tipping from neighbours and passers-by.
For the many homeowners that need to place the wheelie bins at the front of the property for ease of access, the wheelie bin cover provides a simple and value for money solution. These convenient covers can provide a smart and quick solution for hiding rubbish bins in particular.
With bins conveniently handy, yet subtly screened out of sight, property owners can also take advantage by using the covers as a cheap but ideal way improve the kerb-appeal of any home.
For information get in touch with the company directly:
Web: http://www.gardenfurniturecentre.co.uk
Tel: 01564 793652
Fax: 01564 797353
Additional Contact information -
Public Showroom: Yew Tree Farm Craft Centre, Wootton Wawen, Solihull, West Midlands B95 6BY.
Brochure Request: gardenfurniturecentre.co.uk/acatalog/request-brochure.html