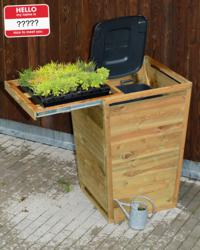 Stylish, easy to setup, cheap and unrivalled.
(PRWEB UK) 30 October 2012
Wheelie Bin Covers have released a brand new product to brighten up outdoor areas by hiding rubbish with herbs and flowers! Wheelie Bin Covers have decided to let the public name the new cover, so to enter the competition to win the New Wheelie Bin Cover with Planter Tray, go to the wheelie bin cover blog and enter your email, name, and suggested name i.e. ECO PLANTER COVER.
The Wheelie Bin Cover has been designed to aesthetically enhance outdoor areas, secure plastic bins, and provide functionality to make emptying the bins a quick and easy chore.
The locking feature on the Wheelie Bin Cover can be used as an effective way of securing bins from unwanted intruders including vermin, cats and dogs. The lock proves effective against stopping animal intruders and removes the need to clear up the unhygienic mess that can be often left by neighbouring pets! Besides protecting against furry neighbours, the garden storage solution's lock also keeps out any fly-tipping from neighbours and opportune passers- by.
The opening lid is a great feature, allowing access to easily deposit rubbish or recyclable items without coming into contact with the bin lid itself. The Wheelie Bin Cover allows easy removal of the bin, using the easily accessible front door.
Keeping the Wheelie Bin Cover clean is easy, the eco-minded FSC Certified European Pine, has been treated to ADOLIT BQ1 standards, which is strong and durable in all weather conditions. Wheelie Bin Covers LTD is very proud of its reputation for being a purveyor of high quality worksmanship. All covers from Wheelie Bin Covers LTD are made to the highest standards using top quality sustainable wood, guaranteed to last many years to come.
Our FSC Certification ensures that the wood we're using comes from forests where the forestry company meets high environmental standards, treats their workers fairly, and invests in making sure the forest is there long term. Economically viable forest management structures the harvest of timber, maintaining the forest's biodiversity, productivity, and ecological processes. This management aims to be sufficiently profitable, but not at the expense of the forest. If you want to know more about our commitment to the FSC, take a look at our FSC Certification Page
WBC's planter tray Wheelie Bin Cover only comes in the Single size, however our other covers come in three sizes, Single, Double and Triple, meaning it is possible to store all rubbish and recycling in one purpose built garden storage solution. The Double and Triple units can be used in the Autumn and Winter months to protect garden accessories from excessive wear and deterioration. Other garden storage/outdoor storage solutions, to store cushions, garden tools and accessories, are available to view here: Garden Storage range.
For ease WheelieBinCovers.co.uk give the customer the option to have their wheelie bin cover stained or painted to match the householder's exterior colour scheme.
Wheelie Bin Covers can offer delivery to anywhere in mainland UK for only £15.99 and customers should expect delivery within 2-3 business days.
All our Wheelie Bin Covers are delivered boxed, flat-packed, and only require a screwdriver, a hammer and can be easily erected in a matter of minutes.
To find out more about this, simple, yet attractive way of storing your rubbish bins, please contact Wheelie Bin Covers via the following methods:
Web: http://www.wheeliebincovers.co.uk
Tel: 01564 79 6684
Post: Wheelie Bin Covers, Yew Tree Farm Craft Centre, Wootton Wawen, Solihull, West Midlands, B95 6BY.