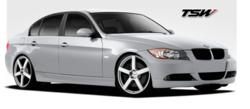 TSW is in the business of producing car wheels as notable for their performance as for their aesthetics
Huntington Beach, CA (PRWEB) September 28, 2012
TSW Alloy Wheels, an enterprise long involved in advancing the state of the art in the design and manufacturing of aftermarket wheels has added a stunning new lightweight rotary forged wheel, named the Panorama. It is available in a wide range of sizes, from 17 inch to 22-inch diameter in five different five-lug configurations, to fit the widest range of cars and SUVs.
Panorama alloy wheels definitely make a statement, with their minimalist five-spoke design and deep-dish center hub. The Panorama is available in Silver with a mirror-cut face, in classic Matte Black and in stunning, differentiating Matte Bronze finish. A configurator on the TSW website, enables those interested to visualize how each of these options will look on their year, model and color vehicle.
What makes Panorama custom wheels truly special is their rotary-forged manufacturing process. Rotary forging results in a wheel that is both dramatically lighter weight than a conventional cast alloy wheel, while also being stronger, with greater impact resistance. A rotary forged wheel is created from a single billet of specialized aluminum alloy. Costly, complex machinery is required to spin the initial casting while under pressure, fundamentally altering the molecular properties of the alloy. This creates a much tighter grain structure than found in a cast wheel. The resulting mechanical strength allows TSW manufacturing engineers to reduce the thickness of the rim, reducing unsprung weight.
Panorama offers staggered wheel configurations, meaning that it is available in a range of sizes to permit slightly larger wheels and tires on the rear axle than on the front. This staggered approach means more rubber meets the road at the business end of the drive train, improving traction and both linear and lateral acceleration. "TSW is in the business of producing car wheels as notable for their performance as for their aesthetics," offered Terence Scheckter, president of TSW Wheels. "The Panorama rotary forged wheel is our latest example of that. For those wanting to make their vehicle a standout from the crowd, the Panorama delivers without compromise," Scheckter added.
Supporting the staggered mindset, Panorama alloy wheels are available in 17-inch diameter in 7.5, 8 and 9-inch widths. Eighteen inch wheels are available in 7.5, 8. 8.5, 9, 9.5 and 10.5-inch widths. The 19-inch size comes in 8, 8.5, 9, 9.5 and 10.5 widths. Twenty-inch wheels range from 8.8 to 10.5-inch widths in half-inch increments while the 22-inch variant is available in 9, 10, 10.5 and 11-inch widths. Panorama alloy wheels accommodate OE center caps and factory lug bolts, support tire pressure monitoring systems and are hub centric, for a smooth, vibration-free ride and longer tire life.
For a dealer near you, call 1 800-479-9723 or search by zip code on the TSW.com website. Panorama dealers are located throughout North America and worldwide, including Discount Tire Direct on the web at discounttiredirect.com/.