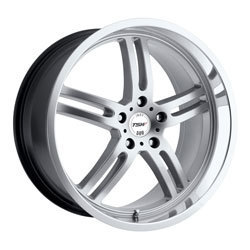 TSW has a great reputation for quality, high-end wheels, which is a natural fit with IMS.
Indianapolis, IN (PRWEB) January 15, 2008
TSW alloy wheels, a world leader in one-piece, custom staggered wheel applications, has started shipping the TSW Indy 500 wheel, an officially licensed, co-branded TSW Indianapolis 500 wheel.
The TSW Indy 500 Wheel- the first alloy wheel officially licensed by the Indianapolis Motor Speedway was first introduced to the industry at the SEMA show in Las Vegas in November of 2007.
The alloy wheels are built in staggered applications to allow enthusiasts the opportunity run wider wheels on the back of their cars and narrower wheels on the front of their cars, inspired by the IndyCar Series cars that compete in the Indianapolis 500 every Memorial Day weekend on the historic 2.5-mile oval at IMS.
"It's a perfect match, given TSW's long history of involvement in motorsports and the Indianapolis Motor Speedway's consistent association with quality products," said Terence Scheckter, TSW chief executive officer. "We are very excited to be associated with 'The Greatest Spectacle in Racing.'"
TSW Indy 500 wheels are available now at TSW dealers. The wheels are available through most high-end wheel stores in North America, including Discount Tire Direct
"We are very excited about working with TSW in our first relationship with a wheel manufacturer," said Nicole Garside, IMS director of licensing. "TSW has a great reputation for quality, high-end wheels, which is a natural fit with IMS."
TSW Alloy Wheels, based in Huntington Beach, California, are born of a rich racing heritage. Founded by a former Formula One driver, TSW has been involved in motor racing around the world for more than 30 years, ranging from the Le Mans 24 Hours to touring cars.
TSW alloy wheels are available throughout the world and have significant brand presence in high-profile markets such as Europe, North America and South America. TSW wheels are manufactured to extremely strict control standards and embody more than 30 years of design experience.
2008 Indianapolis 500 tickets: For information about tickets for the 92nd Indianapolis 500 on Sunday, May 25, 2008, visit The Indianapolis Motor Speedway Website or call the Indianapolis Motor Speedway Ticket Office at (800) 822-INDY outside the Indianapolis area or (317) 492-6700 locally.
###