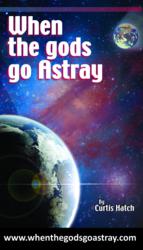 Let us tenderly and kindly cherish, therefore, the means of knowledge. Let us dare to read, think, speak, and write.
John Adams 1735-1826
Westminster, SC (PRWEB) September 28, 2011
Golden Corner Enterprises, LLC, and Curtis Hatch have expanded into the digital realm with a Kindle version of the epic new novel "When the gods go Astray." The online download is available from Amazon.com and can be ready to read in a matter of minutes.
EBooks are a rapidly growing market. According to the New York Times, "Since April 1, Amazon sold 105 books for its Kindle e-reader for every 100 hardcover and paperback books, including books without Kindle versions and excluding free e-books."
According to TeleRead.com, http://www.teleread.com/ebooks/statistics-who-reads-ebooks-in-the-us/, the following information is presented. "Among the 2.1 million US adults who own electronic book readers, 56.3% are men and 43.7% are women. In addition, adults age 35-54 are the "sweet spot" for this product and are 20% more likely than average to own an electronic book reader." The article goes on to say, "E-book owners are 116% more likely than average to be heavy Internet users. Moreover, they are 199% more likely to have accessed the Internet using a Wi-Fi or wireless connection outside the home and 154% more likely to have accessed the Internet using a cell phone or other mobile device."
GCE and Hatch are considering a PDF format for download to other eBook readers in the future.
"When the gods go Astray" is a story of adventure, intrigue, and romance set in a closed society where the government has absolute control. However, the desire for liberty is innate to the human psyche. Once surrendered, can liberty be restored?
The novel is available at http://www.whenthegodsgoastray.com and [Amazon in both paperback and Kindle. International orders can be placed through Amazon.
A video is provided for your consideration at http://www.youtube.com/watch?v=Mc7DZY-B_-o .
Golden Corner Enterprises, LLC of Westminster, South Carolina, is the publisher of the book. GCE is a startup company dedicated to the promotion of new authors. James R. Simpson, Jr. is President and CEO. The company can be reached at GoldCoEnt(at)aol(dot)com or the contact page at CurtisHatch.com.
###