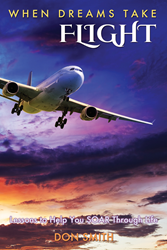 If you face every trial or situation with the attitude of endurance, you can achieve anything.
(PRWEB) March 31, 2015
Don Smith knows what is required in order to achieve your dreams. His book, When Dreams Take Flight, traces the path of his life and shows readers how to go about attaining their own dreams using his successful methods.
The book tells Don's story, starting when he was a young boy growing up in poverty. Then, Don had very little, but he did dream about becoming a pilot. He walked three hours both ways for days trying to have even just a conversation with the pilots to learn more. With this vigor and determination, Don set off on a journey that led him to fly planes in the United States Air Force, work as a commercial pilot for United Airlines for decades, and ultimately become a captain himself.
Now, Don has discovered his passion for helping others realize their own potential. When Dreams Take Flight chronicles the story of Don's life and helps readers look to their own dreams. The lessons that he learned about how to live life with passion and ultimately success are contained within the book for everyone to read and take hold of in their own lives.
When Dream Take Flight will inspire you to live with determination, hope, optimism, confidence, and so much more. It is launching on April 28th, 2015 through Next Century Publishing.
Preorders are available now for everyone who wants to live the life of their dreams, and who strives to see the future they are dreaming of become a reality - http://www.whendreamstakeflight.net/product/when-dreams-take-flight/.
Don Smith:
With an incredible story of working his way from extreme poverty to ultimate success in his chosen field, Donald J. Smith's new book When Dreams Take Flight will serve as an inspiration to everyone who has ever struggled to attain dreams. Don's book is the result of years of experiences and chronicles his ascent from a poor child to a successful military and commercial pilot.