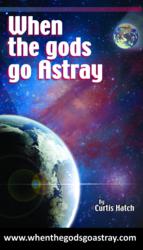 "Make the lie big, make it simple, keep saying it, and eventually they will believe it." -Adolf Hitler
Westminster, SC (PRWEB) June 28, 2011
The Tea Party Movement has brought to light the boiling unrest that exists over irresponsible and overreaching government. Apprehension over out of control spending, runaway debt, eroding freedoms, encroaching socialism, governmental growth, control, and regulation are rampant. If only humanity could be transported a century into the future to see if today's fears are real or imaginary.
This is the subject on which Curtis Hatch concentrates in his new novel, "When the gods go Astray". This is not a religious book; it focuses on men who consider themselves gods. He introduces us to a society in a far away galaxy awakening to the fact they are slaves to an elite few. The few effectively controls government and every facet of their lives. Their challenge is—can they ever regain the lost freedoms? They have come to the realization that all liberties are bought with blood. Their ancestors had been promised safety and security in exchange for a 'few' liberties. It proved to be a massive hoax.
Hatch uses science fiction and futuristic parallels to paint his vision of American society a century hereafter if the present course continues. Do we really have much control over our destiny? Benjamin Franklin once said, "Those who would give up essential liberty to purchase a little temporary safety deserve neither liberty nor safety." This work explores the harsh reality that ensues when the clash between liberty and security escalates to a level that causes the serfdom to rise up and take action.
The book portrays the destination arrived at when a population chooses its path and then must live with the consequences. Questions posed by the author, 1) Can the path of poor choices be changed? 2) Is there hope that a reversal in public opinion can carry with it the strength to overcome? 3) Has mankind passed the critical point from which there can be no return? One cannot say that this book has the correct answers, but it most certainly asks the right questions. Let the reader decide.
Readers of George Orwell and Zecharia Sitchin will see their influences woven into the fabric of the novel.
Hatch is carrying his message through the Tea Party, Media, Internet and public appearances. He hopes his view of the society in the novel will prompt people to stop and ask a simple question. Is this the society one wishes for his grandchildren?
The novel is available at http://www.whenthegodsgoastray.com and http://www.amazon.com.
Mr. Hatch is available for interviews, speaking engagements or guest appearances. He can be reached through Golden Corner Enterprises, LLC.
###