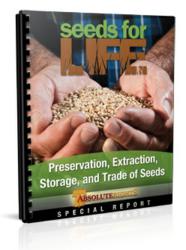 "Seeds for Life" will show people how to save heirloom seeds, how to store them for future use, and even how to use them as currency.
Austin, TX (PRWEB) March 16, 2012
The Earth's biodiversity can be preserved by discovering where to buy heirloom seeds and using them to become a self-reliant food producer, said a recent article from Absolute Rights. There's a way to guarantee reliable, organic seeds that aren't expensive, are plentiful, and will grow in the user's specific location. To learn how to do all these things, Absolute Rights has released the Special Report "Seeds for Life: Preservation, Extraction, Storage, and Trade of Seeds."
Heirloom seeds make up the group of plants selected for their desirable, maintainable characteristics and were typically grown during the beginning of human history, the article said. They are different from the seeds of today's food supply, which is mostly made up of hybrid plants that produce quickly and provide maximum yields.
Biodiversity helps keep the Earth's ecosystem intact and providing the health, shelter, and food human bodies need to survive, added the article. The diverse nature of heirlooms is mentioned in a Chicago Daily Herald article from March, 2012.
"Everything depends on plants," said a seed saver exchange founder in the piece. "We need a vibrant, diverse plant world. And we don't know what we will need in 10 years, so we keep all the pieces. Diversity gives us the strongest food supply."
The article went on to say that "Seeds for Life" will show people how to save heirloom seeds, how to store them for future use, and even how to use them as currency, should things like natural disaster or war create emergency situations.
The advice and suggestions from "Seeds for Life" are based on the customs of American heritage. "Seeds for Life" teaches the way traditional farming used to be done, and it helps keep the previously-established practice of yearly cultivating and continuing plant cycles alive.
Shrinking food supplies are a result of water and soil resources being depleted, said the article, as well as diseases and infestations that can completely wipe out entire crops. They've also been an aftereffect of the huge agricultural business and its command of the market.
Absolute Rights releases "Seeds for Life" and report like it to provide actionable advice and impactful insight into geopolitical and domestic issues.
To learn more and find out where to find heirloom seeds, read Absolute Rights' "Seeds for Life" report. A copy of the report is available at http://www.seedsforlife.com/read/.