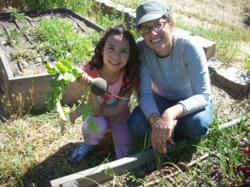 "The school has always had a beautiful biodynamic garden...but the one element it needed to really flourish in our current environmental times, with colony collapse...was bees," says biodynamic gardener Nitza Bernard
Northridge, CA (PRWEB) July 18, 2012
Sustainable gardening has been a part of the culture at Highland Hall Waldorf School since its inception 55 years ago, but it wasn't until the school hired biodynamic farmer Nitza Bernard to renovate their 11 acre landscape and offer additional gardening instruction to the children, that the school began keeping bees.
Five hives now reside on Highland Hall's campus in Northridge, California. They enrich the quality of the school's vegetable and flower beds and make an important difference in gardens throughout the neighborhood by helping to support healthy bee populations.
"The school has always had a beautiful biodynamic garden, based on the principles of Rudolf Steiner, but the one element it needed to really flourish in our current environmental times, with colony collapse...was bees," says Bernard.
A friend of Bernard's who is a member of the Backwards Beekeepers offered to help set up the hives in a location sequestered away from daily student traffic. Since then, the garden has enjoyed an even more bountiful variety of fruits, vegetables and flowers. Students learn about caring for bees and the important role they serve in food production and life on earth.
Bernard continues, "It's my goal to develop a student run CSA, where we can offer the community fresh organic produce right here in the heart of Northridge. But our bees not only help our garden, but every garden in the neighborhood benefits since they fly in a three mile radius!"
While running a CSA (Community Supported Agriculture) or farmers market may be a year away, Waldorf Education was recently recognized as exemplary in transforming the world by educating ecologists from early childhood through the twelfth grade. The Captain Planet Foundation, chaired by Ted Turner, was established to give the next generation of environmental guardians an understanding and love for the natural world. At their annual gala in December, the Foundation will present AWSNA (the Association of Waldorf Schools, of which Highland Hall is a founding member) with the Green School Award. Former president Jimmy Carter and Sir Richard Branson will also be honored that evening for their outstanding contributions to this effort. Patrice Maynard, outreach director of AWSNA, was told by Becca Iverson, development coordinator for Captain Planet, that the foundation members "are in awe of what we do for the earth in the way we teach."
"Biodynamic gardening classes are an integral part of the Waldorf curriculum we provide at Highland Hall, and the bees have a featured place in that program," says Highland Hall administrative director, Lynn Kern. "Sustainable farming practices taught at the school support the earth and inspire our students to be passionate stewards of the environment when they leave this campus."
Highland Hall Waldorf School is located in Northridge, California. Founded in 1955, it is the oldest Waldorf school in the western United States and offers an independent alternative to public and other private schools, providing the Waldorf Curriculum from Early Childhood through High School graduation.