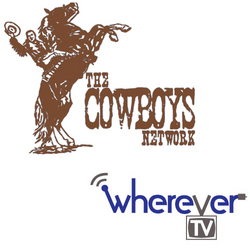 Retro Films.HD and WhereverTV share a focus on providing the highest-quality entertainment experience to customers around the world and we look forward to working with WhereverTV to build value and distribution for Retro Films.HD.
Berlin, Germany (PRWEB) September 4, 2009
WhereverTV today announced development of The Cowboys Network widget by Retro Films.HD for the Yahoo! Widget Engine. The Cowboys Network widget will be on display at Samsung's Internet@TV booth area in Hall 20 at IFA 2009 being held in Berlin September 4-9, 2009.
Soon consumers with Internet-connected televisions powered by the Yahoo! Widget Engine will be able to access more than 1,000 digitally re-mastered Cowboy Western films featuring John Wayne, Roy Rogers, Slim Pickens, Rex Allen, Sr. and many other legends of their time via The Cowboys Network Widget.
TV Widgets enable popular Internet services and online media to reach viewers with applications specifically tailored to meet the needs of the television watcher. TV Widgets are powered by the Yahoo! Widget Engine, based on the popular Konfabulator® widget platform for PC that Yahoo! re-engineered specifically for consumer electronics devices.
"By creating this revolutionary new Internet experience and combining our technology with the global distribution of major consumer electronics and content partners, we enable consumers to access the relevant information and content to enhance their television watching experience," said Patrick Barry, vice president, Connected TV, Yahoo!. "Yahoo! has combined key attributes of the Internet, including openness, community, and personalization, with the power of television."
During the 1930's, 40's and 50's approximately 400 "Singing Cowboy" films and 1,000 "B" Westerns were made. Those films represent not only a very special time in American history but helped set values for generations to come. The Cowboys Network is dedicated to bringing this special slice of Americana to Cowboy and Western fans world-wide through its Yahoo! TV Widget.
"With the launch of the Cowboys Network TV Widget, Retro Films.HD is keenly aware of the evolving viewing habits of today's consumer, and our relationship with WhereverTV is an important step in reaching our global audience," said Rex Allen, Jr., Chairman and CEO, Retro Films.HD, Inc. "Retro Films.HD and WhereverTV share a focus on providing the highest-quality entertainment experience to customers around the world and we look forward to working with WhereverTV to build value and distribution for Retro Films.HD."
"We're honored to welcome Retro Films.HD and the Cowboys Network to the WhereverTV platform. Simplifying content consumption for viewers through Yahoo!'s Connected TV platform is part of our mission to help people enjoy premium content, whenever and wherever they want" said Mark Cavicchia CEO of WhereverTV.
Yahoo! is enabling an ecosystem of developers, publishers, device manufacturers and advertisers that will benefit consumers by bringing the best of the Web to television. To date, consumers can enjoy TV Widgets from Yahoo! News, Yahoo! Weather, Yahoo! Sports, Yahoo! Video and Flickr®, as well as widgets from content partners including Twitter, USA Today Sports, YouTube and Funspot. Additional Widgets are coming soon from popular Internet and broadcast brands.
About WhereverTV
WhereverTV works with leading media companies and niche broadcasters of live and on-demand Internet video, providing content distribution services to any TV in the world. WhereverTV's product family includes the Global IPG® - an interactive program guide with more than 1,400 live and on-demand television channels from 80 countries that integrates a traditional lean-back TV viewing experience with the wide variety of programming available on the Internet, the WhereverTV Yahoo! TV Widget - released during 4Q2009; and the WhereverTV Receiver, an award-winning device that provides consumers with access to a world of television from any living room - or hotel room - in the world.
About The Cowboys Network & Retro Films.HD
The Cowboys Network relives the magical days of the American Wild West where cowboys, ranchers, sheriffs, marshals and rangers were the talk of the town. When cowboys were clever, skilled & level headed in the face of adversity; people to look up to and believe in. They were our role models and heroes. They always righted the injustices of the law, kissed their horse and rode into the sunset. Now, for the very first time, these same magical moments can be relived with digitally enhanced films on The Cowboys Network, where all movies have been re-mastered by Retro Films.HD and are delivered directly to your TV with today's high-definition broadcast standard. The spirit of the Wild West lives at The Cowboys Network.
###