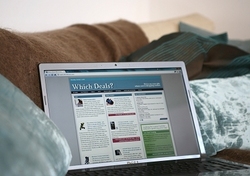 Bigger more robust wheels will be better for any off road activity (I'm thinking sunny walks down the lane rather than undertaking the Dakar Rally here) but they will make the buggy heavier and bulkier. Can you manage with something slimmer for the city?
(PRWEB) October 10, 2010
The recently launched Which Deals website is set to become a 'must bookmark' for all online shoppers interested in getting a great deal. From sweets to sat navs, freezers to phones, the site brings together shopping advice and product listings researched from across the web.
The idea behind the new Which Deals site is simple – spend more time shopping and less time searching. The site works by giving detailed deals and shopping tips on very specific products, allowing you to compare prices and choose your preferred store from one window.
You know what you want to buy, but do you know which deal to go for?
Finding the products you are interested in is easy using Which Deals simple category structure. You'll be presented with low cost deals for that item or service, plus tips on choosing and suggestions for making a purchase you'll be pleased with.
From holidays to pushchairs, the information is presented clearly and easy-to-spot links take you directly to the product, on the site you choose to buy from, when you are ready to checkout.
What really sets the site apart is the detail. The site has only recently launched, so don't expect to find every product listed just yet. Listings take time because they are created by real people. Yep, that's right – contributors review and edit the listings and offer an editorial view point that keeps the content readable and pretty entertaining. We loved the pointers for choosing a designer buggy you won't regret.
Which Deals works because it thinks like you.
You decide you need a new mobile phone, you set a budget and you search. Then you narrow it down to a particular model and want to know all the deals available. Which Deals does just the same. Rather than presenting you with long lists generated by random keywords, the site drills down by category, product and price – just like you do when you shop.
"I am in the process of buying a new Android phone – so I just copied the way I was shopping when I made my contribution to the site." said Fiona, a site editor. "The Under £100 listings made a lot of sense – few of us have enough cash to shop without some kind of budget in mind. It's a feature we'll be using for all sorts of products in the future."
Which Deals launched in September 2010 and is dedicated to building slowly to ensure that the editorial approach can continue. With such detailed coverage and genuinely great low cost deals, new product listings will be worth waiting for. You'll find the site at http://www.whichdeals.com
Our tip: Bookmark this one and keep going back.
###