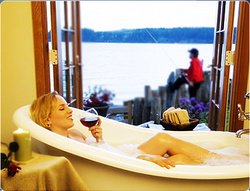 Freeland, WA (Vocus) June 2, 2010
Whidbey Retreats, the only 5-star retreats on Whidbey Island in Puget Sound, is expanding their offering of waterfront vacation homes by adding yet another property, bringing their group of vacation homes to 13. The company announced today that they have finalized the purchase of a 2400+ square foot waterfront home, named "DAD's Harbor House", that will perfectly fit with their already large offering of high end luxury homes. With a large deck overlooking tranquil Holmes Harbor, all four large bedrooms facing the ocean, beautiful landscaping, and easy access to a private beach perfect for digging clams or beachcombing, this home will be a delight to the groups that stay there. Because it's on protected Holmes Harbor, it is ideal for family boating, fishing, crabbing which can be enjoyed by the company's related Whidbey Island Concierge operation.
While many other firms are going out of business or selling off their properties, Whidbey Retreats continues to look for those gems that can be the waterfront escapes for extended families or groups. All magnificently redone, these classic waterfront homes are renowned for their architectural serendipity, luxury furnishings, gourmet kitchens, multimedia systems, fine artwork, and amenities such as fireplaces, pool tables, and hot tubs. The company is enjoying a growing trend among cost conscious luxury vacationers who see such luxury home rentals as a viable alternative to fractional or total vacation home ownership. They just show up, use the luxury retreat with their family and friends and leave – mom doesn't have to worry about clean up, and there's none of the hassles of property maintenance, skyrocketing taxes, and security.
Gina Stanhope, company President, stated, "For the past 20 years we've been growing our operation on Whidbey Island. We are constantly looking for the perfect waterfront vacation home that can accommodate extended families and we are thrilled to have found this home. While we have several smaller homes for romantic couples, our focus is aimed at the larger groups of 10-12 people who want to enjoy the island together. This home will fit into our offerings perfectly."
Whidbey's guests read like a who's who of executives, professionals, business owners and celebrities. Whidbey Retreats sister company is CEO Expeditions which is the leading water based yacht operation in Puget Sound numbering guests such as Hilary Swank, Al Pacino, Glenn Beck and many others for its San Juan Islands Cruise and other luxury expedition yachting.
A significant employer on Whidbey Island, the company uses local staff to renovate and maintain their properties. The company will be updating this property for rental starting in June.
For more information, e-mail or call Gina Stanhope today at reservations@whidbeyretreats.com, 425-990-5701.
About Whidbey Retreats:
Over 20 years ago, Freeland, Washington based Whidbey Retreats purchased their first waterfront retreat and renovated it to appeal to an upscale clientele who are used to five star hotels and resorts such as Four Seasons or Ritz Carlton. Now 13 properties are currently available for vacation rental, most of them waterfront properties, with new properties underway. The company builds, maintains, markets, and supports all their properties with their own staff in order to insure the highest quality vacation rentals. Whidbey Retreats has established themselves as the premier destination on Whidbey Island, and the finest upscale retreats in the Puget Sound. For more information, visit http://www.whidbeyretreats.com.
Contact:
Gina Stanhope
reservations(at)whidbeyretreats(dot)com
425-990-5701
###