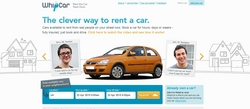 London, UK (PRWEB) April 23, 2010
It is now possible to make greater use of a car, whilst actually being more environmentally friendly. This may sound too good to be true, but with WhipCar's innovative new peer-to-peer rental service, users can put their car to work, reduce their carbon footprint and earn money. Alternatively, for those looking for a car to drive, WhipCar provides users with a convenient and affordable new way of hiring a car based in their local area - and they can pat themselves on the back for going green in the process.
According to The New Scientist, the average car in the UK is used for only an hour per day, even though it costs around £5,523 per year to own (RAC Cost of Motoring Index 2009). It is clear, then, that as a country we are not making most efficient use of our cars - which is where WhipCar comes in.
WhipCar was created by co-founders Vinay Gupta and Tom Wright, who recognised that unused cars could be made use of in a greener and more cost-effective way. If just a few people choose to rent the car next door, the number of cars in circulation will decrease, which means a greener future for driving. What's more, owners can earn money from renting their vehicle. It is a modern and practical facility, stemming from the natural evolution of traditional car hire companies.
WhipCar provides an easy-to-use online service that takes on only fully vetted drivers and totally safe cars, and includes a newly-developed, comprehensive insurance package. Signing up only takes a few minutes in a simple, accessible format, all done from the comfort of home - and the car can be picked up from just round the corner!
WhipCar's founders are dedicated to providing the safest and best quality service possible. Consequently, every stage of the renting service is vetted to ensure complete security and legitimacy for both owner and driver. All cars are subject to rigorous safety checks and all drivers are screened, and the price and timing of rentals are put in complete control of the owner.
Based in London, the initial area covered by WhipCar will be Maida Vale, which is set to change the face of W9 car rental services. The world of car hire is transforming, and the lucky folk in this area get to take advantage of it first. For those looking for a hire car in Maida Vale - and soon, in other areas of the capital - there's no better place to come.
###