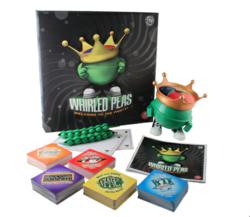 Support Whirled Peas!
Savannah, GA (PRWEB) July 21, 2011
Peas-Corp is launching a campaign targeting students going back to school. The theme is designed to highlight world peace and positive interaction at US colleges as well as promote opportunities to engage students in an activity that fosters positive communication and interaction.
"Our game is perfect for engaging students in a laid-back, fun environment and we were searching for universities where we could launch our promotion for party games and stumbled upon great campus sites featuring organized game nights. This led to an idea to target schools that represent a cross section of American universities." says Jenna Yarbrough, Communications Director for Whirled Peas® The Game. The result is a back to school campaign with a contest in the fall that will ask students to submit short videos of their teams playing the 5 challenges in Whirled Peas. Winning submissions will have a chance of getting one of several free iPads.
"The company was established with a goal of building its foundation, The Peas Project and when everyone plays, our mission continues to grow" according to Kevin Werntz, the company's founder.
To learn more about the game and the mission log on to
http://on.fb.me/whirledpeasgame and follow on Twitter @whirledpeasgame
Whirled peas is available across the US at Barnes & Noble
Inquiries: info(at)peas-corp(dot)com
###