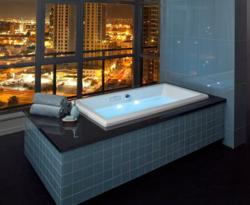 Not only do whirlpool tubs come in different in sizes, shapes, and styles, there are also quite a few types that produce very different user experiences.
(PRWEB) August 21, 2012
HomeThangs.com – the Home Improvement Super Store has made their goal to deliver the right product to the consumer, with that in mind, shopping and home design tips, as well as special product selections are being introduced.
HomeThangs.com has introduced a comprehensive guide to whirlpool and jetted tubs and their features to educate the consumers and help them pick the one that would provide the bathing experience needed.
Not only do whirlpool tubs come in different in sizes, shapes, and styles, there are also quite a few types that produce very different user experiences.
1. The Classic Whirlpool Tub
(aka Jetted Tub or Water Jet Tub)
This is what most people think of when they think of a "jacuzzi" because they were originally designed and marketed by Jacuzzi almost a hundred years ago. Whirlpool tubs circulate water and force it back out through a series of jets, sometimes mixed with air to give an intense, deep-tissue massage. This is the most intense whirlpool experience (too intense to be relaxing for some), and the experience is similar to an average outdoor hot tub. Importantly, one cannot use bath oils or salts in this type of tub, as they can clog the motor and break the tub as they circulate with the water.
2. Air System Tubs
(aka Pure Air, Air Bath, Bubble Massage, Effervescence Baths)
The air bath represents the much gentler cousin of the classic whirlpool tub. Instead of water jets, these tubs produce streams of tiny air bubbles. Like the traditional water jets, they can be adjusted in intensity, producing anything from a light fizz to a gentle massage, rather than the deep tissue massages of a whirlpool. Air system tubs are a good choice for those who dislike the intense experience of hard water jets, and prefer a lighter, bubblier experience. Also, bath oils or salts can be used in this type of tub, as the heated air comes from a separate source and the bath water does not come in contact with the motor or pump.
3. Combo Massage Tub
(aka Salon Spa, Combination Tub)
Combo massage tubs contain both water jets and air jets. These tend to have many more jets in them than either other type of tub, but not all of them are necessarily used at once, as both systems can be adjusted independently to get exactly the intensity and type of jet experience wanted. Combo massage tubs are great if multiple people with different tastes will be using the same tub, or if one sometimes prefers a more intense experience and other times wants to be pampered. For the same reason as whirlpool tubs, combo tubs cannot be used with bath oils or salts.
4. Chromatherapy
(aka Light Therapy, Illumatherapy, or "with lights")
Chromatherapy isn't a particular type of tub, but a common add-on feature offered by most luxury brands. Whirlpool tubs with chromatherapy essentially contain a series of LED lights placed variously below the water line that seem to tint the water when they're turned on. The lights can be altered to almost any color in the rainbow, and many of them have pulsing or color changing settings as well. Since colors have a profound effect on the mood, the use of colored light can help deepen and intensify the relaxing or invigorating experience of using whirlpool tubs.
5. Sound Therapy
(aka VibrAcoustic or built in sound system)
Many luxury whirlpool tubs also include the option to add on full stereo systems or, at the very least, link up an iPod. Some brands, like Kohler, go a step further, with tubs that actually use the music playing to produce vibrations that ripple through your bath water. In fact, the Fountainhead Tub by Kohler for instance, even comes with built in sound therapy rhythms designed to help energize and invigorate body and mind.
6. In Line Heating
(aka RapidHeat, Whirlpool Heater, Safe-T-Heater)
Another add on, in-line heating is available in select whirlpool tubs and essentially heats and/or maintains the temperature of bath water. Whirlpool tubs with in-line heating, like Calla EcoSilent Tub from Porcher for example, will keep water as hot as needed it for as long as one wants to use it.
HomeThangs.com is not only a home improvement superstore, it also provides expert design tips and a comprehensive shopping guide, taking the ideas from professional interior designers, and offering tips to the consumers on how to pick the products to best suit their needs.