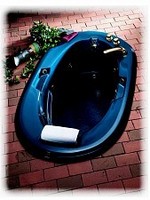 San Diego, CA (PRWEB) December 19, 2008
Simply Bathtubs is thrilled to announce the release of the newest addition to their quality discount bathtubs collection, the Oval 63-Inch Whirlpool Bathtub. This tub is a luxurious addition to any bathroom, and because it is available in 44 colors, it's easy to find the perfect one to match your unique bathroom.
This appealing Oval 63-Inch Whirlpool Bathtub brings the spa to your home, and will become the new focal point of your bathroom. Created to be a drop-in style tub rather than free standing, it will blend in to your bathroom furnishings and yet stand out at the same time. It has been thoughtfully constructed of high gloss acrylic, making your whirlpool bathtub practically indestructible while allowing it to shine for years to come. The best part about this gorgeous bathtub are the six adjustable water jets and molded lumbar support and arm rests, which are perfect for easing muscle tension and relieving joint pain. This whirlpool tub will truly bring the luxury and stress relief of the spa into your bathroom, available any day and any time you need it.
This distinctive whirlpool tub is just the beginning of a premiere line of bathtubs that you can find on the Simply Bathtubs website. Simply Bathtubs is thrilled to be able to add this stylish and luxurious bathtub to their large collection of quality bathtubs. This specialized whirlpool bath tub is also available for the free shipping special, because Simply Bathtubs is extending the very popular free shipping on any bathtub purchase in the continental U.S., and no sales tax outside of California special that they have been offering for the month of December.
About Simply Bathtubs:
Simply Bathtubs is the leading online source for everything bathtubs! They offer a wide selection of walk in bathtubs, whirlpool bathtubs, and clawfoot bathtubs for your bathroom remodeling project. Their bathtubs come in several different styles and sizes so that customers can find just the right bathtub for their space and unique interior design. If floor space is limited in a bathroom, then a corner bathtub or modern bathtub is a great solution, but if there is a lot of floor space and you want the bathtub to be the centerpiece, then a claw foot bathtub or free standing bathtub may work better. If you have special needs or elderly family members in the home, the quality walk in tubs offered are an affordable and stylish solution. Simply Bathtubs offers quality discount bathtubs at low prices, a wide selection, and a great customer service experience.
###