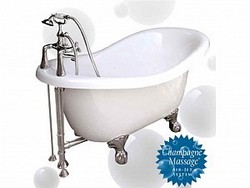 San Diego, CA (PRWEB) August 27, 2008
Simply Bathtubs is pleased to announce the launch of a new line of whirlpool tubs to add to their other specialty bathtubs. There are two main types of whirlpool tubs offered on the Simply Bathtubs website now, including drop-in whirlpool tubs and alcove or free standing whirlpool tubs.
These two distinct whirlpool tub styles are offered with a "champagne massage" system. This champagne massage jet system is very therapeutic for those who just need to relax or those who have physical ailments that benefit greatly from air jet tubs. The air channels are strategically placed throughout the center area of the bottom of the tub and up the back side. The air blower is detached from the bathtub to eliminate vibration, and reduce noise, also allowing for easy storage when not being used. Of course to make these whirlpool tubs the ultimate in relaxation, they come with a wireless, water resistant remote control that controls air bubble intensity and temperature.
These champagne massage whirlpool tubs add to the Simply Bathtubs premiere line of bathtubs for the do it yourselfers and professional bathroom specialists. In order to ensure that we provide the bath tubs to fit every bathroom, these luxurious whirlpool tubs are offered in different shapes, sizes and are made of a very light yet durable material called "acrastone". Acrastone is stronger and lighter in weight than traditional cast iron. To manufacture these bathtubs, two sheets of reinforced acrylic are bonded together creating an inner and outer shell. The combination of the Acrastone and the extra-thick acrylic make these tubs almost indestructible, making them the sturdiest light luxury tubs on the market.
Simply Bathtubs is happy to bring this new line of luxury whirlpool bathtubs at low prices during these tough economic times. Of course, if whirlpool tubs are not the bathtub of your choosing, Simplybathtubs.com has a wide collection of classic bathtubs, claw foot tubs, and discount walk-in bathtubs. As the demand for versatile and affordable luxury bathtubs increases, the selection available by bathtub specialists should meet the needs of those who want a new traditional, whirlpool, or walk-in bathtub today and tomorrow.
About Simply Bathtubs:
Simply Bathtubs is the leading online source for everything bathtubs! They offer quality traditional bathtubs, walk in bathtubs, whirlpool bathtubs, and claw foot tubs for your bathroom remodeling project. Their bathtubs come in several different styles and sizes so that customers can find just the right bathtub for their space and unique interior design. If floor space is limited in a bathroom, then a corner bathtub or modern bathtub is a great solution, but if there is a lot of floor space and you want the bathtub to be the centerpiece, then a clawfoot bathtub, whirlpool tub, or cast iron bathtub may work better. Simply Bathtubs offers quality bathtubs at low prices, with FREE SHIPPING in the continental U.S., and a great customer service experience.
###