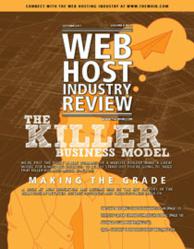 In pursuit of some inspiration for your killer business model, we sought out some of the really cool things being done in the hosting space by providers trying to stand out from the crowd
West Chester, Ohio (PRWEB) November 23, 2011
The Web Host Industry Review, the leading resource for information on the web hosting industry, is exited to announce that the October 2011 issue of its Web Host Industry Review magazine has shipped, providing readers with a compelling look at some of the coolest and most unusual business models in the hosted services space.
October's cover story, "The Killer Business Model," written by WHIR editor in chief Liam Eagle, addresses the well-known need for hosts to differentiate themselves in a commoditized market that gets only more commoditized as time goes by – and it offers up some of the more interesting and inventive hosting business models as examples of how hosts can truly differentiate.
"In pursuit of some inspiration for your killer business model, we sought out some of the really cool things being done in the hosting space by providers trying to stand out from the crowd," writes Eagle, in his October Editor's letter. "They're not all huge companies yet, but they've all got some really interesting ideas, and more importantly, they're looking at innovating in a way that could inspire some really original thinking from you."
Some of the cool business models exampled in the cover story include UK2 Group's organizational emphasis on innovation, the unsupported services of No Support Linux Hosting, the "freemium" hosting model of Webs.com, the AWS-based managed cloud service of Datapipe, the security-focused public cloud of Firehost and the "gated community cloud" of InetU.
The objective of the piece is obviously not to spark copycats, but to inspire the same kind of inventiveness – from the inspired twist to hardcore innovation – at hosting providers struggling for a way to stand out.
In another lengthy feature on education's role in the marketing relationship, David Hamilton examines how community- and organization-based tradeshows, focused on education, have become one of the tools vendors use to communicate with hosting providers.
Some of the other key features in October's issue include a look at how hosting providers have come to influence the development of technology in general, with a specific look at Dell; a look at content delivery networks as a reseller offering; an article on the Save Hosting effort to influence US legislation, and an interview with Elliot Noss of Tucows, which will enable web hosts to distribute mobile phone services with its currently-in-beta Ting service.
The October 2011 issue of WHIR magazine, along with all if its back issues, is available in an online edition.
Since 2000, The Web Host Industry Review has made a name for itself as the foremost authority of the Web hosting industry providing reliable, insightful and comprehensive news, interviews and resources to the hosting community. TheWHIR Blogs provides a community of expert industry perspectives. The Web Host Industry Review Magazine also offers a business-minded, issue-driven perspective of interest to executives and decision-makers. WHIR TV offers on demand web hosting video interviews and web hosting video features of the key persons and events of the web hosting industry. WHIR Events brings together like-minded hosting industry professionals and decision-makers in local communities. TheWHIR is an iNET Interactive property. For more information on iNET Interactive, visit http://www.iNETinteractive.com.
###