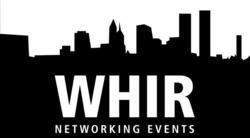 Expanding these networking events to Europe enables hosting providers and vendors on both sides of the Atlantic to further develop and maintain key connections in an informal setting
West Chester, OH (PRWEB) October 18, 2011
Web Host industry Review (WHIR), the leading media outlet for the web hosting and hosted services industry, has announced the expansion of its highly attended North American business networking events to four major European cities in Spring 2012. From May 22-31, the WHIR networking events are being held across Europe from Amsterdam and Berlin to Paris and London.
The WHIR Networking events are professional, free-to-attend networking events that bring together hosting providers and vendors within a casual, high-class lounge environment. The events enable hosted services executives and decision makers to network with new and existing business partners, and build upon key business connections started at HostingCon, the hosting industry's annual conference and trade show in North America. Register for free at WHIRevents.com
"We've received exceptional feedback from executives in North America supporting the benefits and value they have gained from attending these networking events especially in conjunction with HostingCon," says WHIR editor in chief and event MC, Liam Eagle. "Expanding these networking events to Europe enables hosting providers and vendors on both sides of the Atlantic to further develop and maintain key connections in an informal setting."
The WHIR European networking events are sponsored by hosted services companies. The first title sponsor for the European events is SoftLayer, a North American leader in hosting who recently launched data centers in major European cities. Parallels, the worldwide leader in virtual automation, are also a title sponsor. Globalsign will sponsor networking events within specific European cities. Additional sponsorship opportunities for the European events are available but extremely limited. Learn more about sponsoring WHIR Events in Europe.
About Web Hosting Industry Review
Since 2000, The Web Host Industry Review has made a name for itself as the foremost authority of the Web hosting industry providing reliable, insightful and comprehensive news, reviews and resources to the hosting community. TheWHIR Blogs provides a community of expert industry perspectives. The Web Host Industry Review Magazine also offers a business-minded, issue-driven perspective of interest to executives and decision-makers. WHIR TV offers on demand web hosting video interviews and web hosting video features of the key persons and events of the web hosting industry. TheWHIR is an iNET Interactive property.
About NET Interactive
Founded in 2002, iNET Interactive is a web-centric media company serving special interest communities through prominent online properties, events, and publications. Its media properties incorporate user-contributed ratings, reviews, and discussion augmented with professionally-produced content.
###