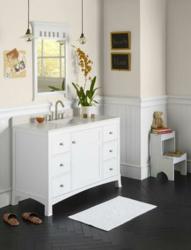 White shows off every detail and feature, catching both light and shadow to bring detailed woodwork to life.
(PRWEB) May 23, 2013
HomeThangs.com – the Online Home Improvement Store has made their goal to deliver the right product to the consumer. With that in mind, shopping and home design tips, as well as special product selections are being introduced.
When it comes to bathroom design in general and bathroom vanities in particular, white is one of the best and most flexible colors out there. It helps keep a bathroom looking clean, bright, open, and large, and unlike some wood tones, it isn't limited to a single design style. In fact, depending on the material and finish used, white bathroom vanities can work well with just about any decor.
1. Simple White
Plain, simple white is the color used to paint over old cabinets to breathe new life into them. It's the color of crisp, clean cottage bathroom design and breezy seaside getaways. These white bathroom vanities are pure white, with simple country or transitional styles that are perfect for a casual, cozy contemporary space. With one big window, even a relatively small white bathroom vanity can help brighten a space, while the sleek, simple lines of the vanity itself create a comfortable, uncluttered style.
2. Antique or Parchment White
That said, not all white bathroom vanities are, strictly speaking, white. Many antique styles tend more towards off white, cream, parchment, and even a little darker. A well-applied antique finish in this color will highlight the antique woodwork, either with darker tones that mimic the age of passing years, or with strategic wear-through of the paint. Either way, these techniques enhance the wood detailing by simultaneously drawing the eye to the vanity's best features and imitating age that would otherwise only come with years of use. As a bonus, this color works equally well in bathrooms with and without windows. While incandescent light can minimize the glowing white effect of a pure white, with a parchment white you won't have to worry because the paint already has a yellowish tint.
3. Weathered White
Not to be mistaken as the same thing as an antique finish, weathered white bathroom vanities are designed to look physically aged. Rather than simple wear-through on the corners or prominent edges, weathered vanities look like they were whitewashed (maybe unevenly) then left out in the sun to crack, peel, and wear down. Now, of course this look isn't for everyone, and if it isn't done well it just looks messy. But with a careful hand, weathered white bathroom vanities can be made to look positively charming.
4. Wedding Cake White
Many antique-styled white bathroom vanities start somewhere in the off-white range and get darker and more beaten up from there, so heavily carved, ornamental antique bathroom vanities done in the purest, whitest white makes for a dazzling contrast. More than any other color, white shows off every detail and feature, catching both light and shadows, so elaborate antique woodwork really comes alive when done in a very bright white.
5. Glossy White
White has been nicely appropriated by modern design as well, but with a twist. Cranking up the glossiness on white paint instantly creates an ultra modern vibe, with slightly reflective surfaces that create the hands-off urban chic that's so desirable in modern design. As with other white bathroom vanities, these can make a bathroom look and feel bigger than it is, while contrasting the white with a black counter top or accent wall can create an even more dramatic modern look.
6. Porcelain White
Pedestal sinks and console vanities aren't technically bathroom vanities, but they are white, and they're definitely traditional. In fact, the history of the prevalence of white in the bathroom can be traced right back to the use of white porcelain. Pedestal sinks, subway tile, hex tile, and clawfoot tubs give a prim sense of turn of the century style, but also create a crisp, clean, and easy to clean decor. Especially with lots of natural light, all these elements combine to create a very bright, open space, even without any "traditional" white bathroom vanities.
To learn more about choosing a white bathroom vanity, read the full version of this article here.
HomeThangs.com is more than just a Home Improvement Superstore. They're constantly seeking to provide homeowners and designers with the right products at competitive prices. With a wide selection of products, expert design tips, and comprehensive shopping guides, Homethangs is a company that's there at all stages of the design process, from idea to execution. It's their goal is to make dream remodels doable.