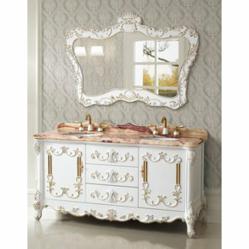 White bathroom vanities come in a huge variety of sizes, styles, designs, and even finishes. No matter what the bathroom style, there's certainly a white vanity out there that will fit the needs and match any decor.
(PRWEB) September 20, 2012
HomeThangs.com – the Home Improvement Super Store has made their goal to deliver the right product to the consumer, with that in mind, shopping and home design tips, as well as special product selections are being introduced.
There are quite a few advantages to having a white bathroom vanity. Just to name a few, white is a light, bright, open color and can help open up a room and make it seem larger, because it's also the most neutral color, it's easy to change the look of the bathroom without having to swap out the vanity or worry whether the new colors will clash.
There's a huge variety of sizes, styles, and designs of white vanities available. HomeThangs.com introduced a selection of white bathroom vanities, along with a tip sheet to help the consumers who feel stumped on where to start, navigate through the wide selection available to find the one to match their style.
1. There are many antique inspired styles of white vanities available, ranging from pure white fonosh to rustic distressed. For example, the Traditional white vanity from Silkroad Exclusive is antique inspired – from the carved molding just below the counter to the sassy period style feet. Even the curved edges and the slightly concave doors and drawers all come from genuine historical designs. It's not quite a replica antique, but the design is both classical and timeless, and the blemishless white finish evokes Greek and Roman marble architectural carvings, enhancing the regal feel of the vanity. If looking for a vanity that would resemble a Victorian dressing table, Abigale or Charlotte vanity from Virtu would be a good choice. Perfect for a stately, luxurious period inspired bath.
2. Similarly, the slightly off white P5512-03A Legion vanity incorporates several antique details, like the Romanesque column corners and intricately carved feet. However, unlike the one from Silkroad Exclusive, which is based on genuine antique designs, this vanity merges classical flair with more contemporary design. Overall, it's a much more casual fixture with just enough embellishment to draw the eye.
3. The weathered look is best suited to an antique, period style bath. For example, the Antique Parchment White vanity from Belle Foret is relatively heavily aged, but the weathering only enhances the intricate floral and scallop shell carvings that cover the faces and legs of the vanity. For a truly vintage looking (rather than just classically styled) bathroom, an aged, antique-inspired vanity like this one, is definitely the way to go.
4. If going for the look of luxury, the WB-19653A or WB-19653B White Antique Vanities from Legion Furniture would be the right choice. They feature pristine white finish with gilt detailing to bring out the delicate floral carvings, with a jade marble counter to top it off. The white finish is softer, brighter, lighter, and will make the bathroom seem more open, and that little glint of gold will add an unmistakable touch of royalty and luxury.
5. For a more updated, modern twist on a classical style, there are classy and sleek white vanities that have a slight vintage flair despite being modern. For example, the Gabrielle vanity from Decolav merges a very modern, slightly glossy white finish, green glass counter, and integrated sink with classically inspired curves. The drawer pulls are modern brushed steel, but echo the curves of the legs and the bottom edge, giving it a vintage dressing vanity look and feel. Perfect for a sophisticated yet minimal bathroom. Another example - Bathroom Vanity WA3037 by Legion Furniture.
6. Just a few simple lines can do a lot for the overall look and feel of a vanity. The Carrabelle Glacier White Vanity from Pegasus replaces the simple square-in-square wainscoting with a medium thickness beadboard style, immediately making it look and feel more casual. Again, this works great with a matching wall treatment, and is the perfect companion to a cottage style bathroom. The right paint color will make this icy white look warm and inviting, and will really help brighten even a dimly lit space. Some other great options for Cottage style bathroom are: Cottage Retreat Collection vanities from Sagehill Designs, Cottage Collection by Pegasus, Islander Collection by Xylem.
7. The Adler White vanity from Hardware Resources is sleek and open, with lots of white space to help visually expand the bathroom. The square satin nickel drawer pulls are a rather modern touch, but otherwise this is another one that's very nicely suited to a smallish cottage style bath.
8. For a really sleek, minimalistic contemporary look, there are vanities like ones from Robern, which come in many colors, including satin white. Living and Palace Collections from Laufen and Aurora from Iotti offer a variety of glossy white bathroom vanities to fit any size bathroom.
White bathroom vanities come in a huge variety of sizes, styles, designs, and even finishes. No matter what the bathroom decor, there's certainly a white vanity out there that will not only fit the needs, but leave the bathroom looking bright, clean, and beautiful.
HomeThangs.com is not only a home improvement superstore, it also provides expert design tips and a comprehensive shopping guide, taking the ideas from professional interior designers, and offering tips to the consumers on how to pick the products to best suit their needs.