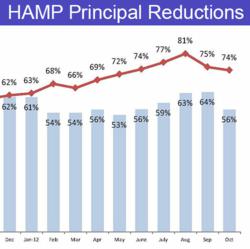 People want to own, and when the opportunity comes back for people to be able to buy their own homes, they will. Let's not forget — the American dream is not to rent a home. It's to own a home." ~ Richard Anderson
Minneapolis, Minnesota (PRWEB) December 10, 2012
November Housing's Scorecard announced that 1.3 million homeowner assistance actions have taken place through the Making Home Affordable Program, helping to absorb shadow inventory.
Home Destination's owner Jenna Thuening, says, "Housing analysts have the dodging task of predicting the emergence of shadow inventory, the catalog of homes on the edge of foreclosure or in the beginning stages, destined to be bought by the banks and then re-marketed to home buyers and investors". RealtyTrac reports foreclosure sales increased in the third quarter of 2012 and housing still has over 5,300,000 mortgages in the foreclosure pipeline.
White House Scorecard gains that reduce foreclosure risks include:

More than 1.1 million homeowners have received a permanent modification through HAMP, having reduced first lien mortgage payments by a median of approximately $542 each month – more than one-third of their median before-modification payment – saving a total estimated $16.2 billion in monthly mortgage payments.
Nearly 100,000 second lien modifications started through the Second Lien Modification Program, and over 80,000 homeowners exited their homes through a short sale or deed-in-lieu of foreclosure with assistance from HAFA.
Homeowners currently in HAMP permanent modifications with some form of principal reduction have received approximately $8 billion in principal reduction.
Permanent modifications helping homeowners avert foreclosure feature the following modification steps:
97.1% feature interest rate reductions
60.9% offer term extension
32.0% include principal forbearance
"The Administration remains focused on continuing to improve standards for the mortgage industry to help families avoid foreclosure," said Treasury Assistant Secretary for Financial Stability Tim Massad. "We continue to push the industry to provide better service to homeowners while expanding the range of solutions available to families facing mortgage concerns."
Goldman Sachs offers three reasons why delinquent homes don't always translate into foreclosure liquidation and become shadow inventory.
1) Delinquency History's Vary During Foreclosure Timeline
Lender Processing Services (LPS) data show that 40 percent of foreclosure starts filed in recent months consist of "recycled or repeat foreclosures" versus "new foreclosures". More than half of the monthly transitions from being current to being 30-day delinquent are from mortgages that have delinquency history during the past 12 months, causing a variance in month to month reporting.
2) Lender Service Responses Vary
Transitions between different performance states are heavily dependent on government policies, where it is left to the state, and lender and servicer responses to government policies. For example, transitions from being delinquent to being current will increase when more loan modifications are implemented. Conversely, transitions from being current to being delinquent will decline when refinancing qualification aren't gripped so tightly.
3) Many In Process Foreclosure Are Averted
Not all foreclosure filings are foreclosure completions. Even before the robo-signing scandal surfaced and the foreclosure moratorium took effect, a mortgage was as likely to pull out of foreclosure status due to homeowner's taking action and managing to obtain a loan modification, or other forms of help.
If homeowners' mortgage tax exemption expires as we face the pending fiscal cliff, it could slow the $25 billion National Mortgage Foreclosure Settlement that five national lenders struck with 49 states and the federal government in March. That deal requires banks to use the bulk of the penalties for borrower aid, including at least $10 billion in principal reduction, needed to keep pre-foreclosures and shadow inventory down.
"The Minneapolis housing market absorbed shadow inventories through modifications helping many homeowners avoid foreclosure. Distressed properties are plagued by additional weights to their default status or their underwater negative equity status. They additionally add concern due to their frequent state of disrepair. Too often they become the blight of otherwise exceptional real estate neighborhoods, potentially effecting home values," commented Thuening.
According to BusinessWeek, Peter Coy says, "These are the most dangerous assets in the massive shadow inventory portfolio of properties. Most banks have not put these wrecked homes on the market for a variety of reasons, or at least not yet. There is no question that many real estate investors and flippers would love to purchase these homes, but in doing so they will manage to depress the price recovery currently underway."
The housing market remains fragile to a certain degree. While it is the bright spot in the economy, the housing recovery is highly dependent on other macroeconomic factors such as unemployment, builder optimism, and consumer optimism. These factors, which the housing market depends on to thrive, are subject to volatility. A significant number of properties in the shadow inventory come on the market at the same time, deep periods of unemployment or widespread low consumer optimism, could reverse progress in lowering shadow inventory.
Minneapolis area home buyers seeking to buy pre-foreclosure homes, or facing foreclosure may reach Home Destination by calling 612-396-7832.