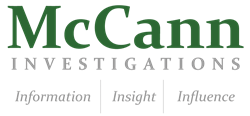 We are seeing these cases increase more with domestic situations such as contentious divorce and child custody
Houston, TX (PRWEB) February 28, 2013
McCann Investigations, a Texas-based computer forensics firm released a white paper titled What is Spyware and How is it Detected and Prevented. This paper explores the complexities of digital bugs, also known as spyware and malware. With so much data stored on computers, laptops, smart phones and tablets, these devices are often targeted for cyber-attacks. The spyware may harvest confidential and sensitive information by providing the perpetrator with remote access through the internet. Or malware may disrupt the function of the device or even an entire network causing damage and financial loss. Digital debugging involves not only detecting and documenting the bug (malware or spyware) and attempting to seek out its origin, but also installing preventative measures to stop the bug.
"We are finding that many clients are coming to us who have not been randomly targeted by a hacker, but with a real network breach perpetrated by someone that they know," said Daniel Weiss, Partner at McCann Investigations. "We are seeing these cases increase even more with domestic situations, such as contentious divorce and child custody as well as with our corporate clients."
Given the increasingly complex nature of mobile devices such as (iPhones, Android based phones, iPads, Android tablets, and Microsoft tablets), cyber-attacks against these types of devices present increased danger of data breaches. These devices function much the same way as a laptop or desktop in that they store data such as emails and documents as well as text messages and phone calls. They are also used to access web-based applications (such as CRMs, banking institutions, retailers, etc.) and thus store passwords and log in information to these applications as well. As the sophistication of spyware increases, it is possible that key loggers and other malware installed on a mobile device could be just as effective for harvesting information as a desktop or laptop computer.
Clearing the bug is only the first step of the debugging process. The second step is analyzing existing security systems such as firewalls, anti-virus programs and policies and procedures. Implementing new technologies, software and polices is the third step, so that clients can be up-to-date in the affordable technology designed to keep data and communications secure. The final step is constantly monitoring, updating and testing the solutions implemented.
About McCann Investigations
http://www.mccanninvestigations.com
Twitter: @mccanngi
Facebook: http://www.facebook.com/McCannInvestigations
McCann Investigations is a full service private investigations firm providing complete case solutions by employing cutting-edge computer forensics and traditional PI tools and techniques. For 25 years, McCann's investigators have worked in the public and private sector encompassing law enforcement, physical and electronic security and computer forensics.
McCann works with Law Firms, Financial Firms, Private and Public companies and individuals in cases including contentious divorce, child custody issues, fraud, embezzlement, spyware/malware detection, civil and criminal background investigations, due diligence.
McCann Investigations tools include computer forensics, mobile device forensics, spyware/malware detection, network breach detection, digital debugging and IT network vulnerability assessments.