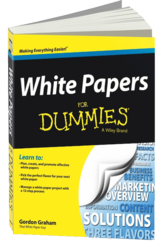 Nine out of 10 B2B companies in the U.S. now use content to attract prospective buyers. And white papers are recognized as "the king of content."
Hoboken, NJ (PRWEB) April 16, 2013
Business-to-business (B2B) sales make up one-third of the U.S. economy, and a big chunk of those sales are driven by the unique marketing documents known as "white papers."
White papers describe the benefits of a B2B product or service, or highlight a better way to solve an industry problem.
These documents fit perfectly with the sweeping trend called "marketing with content." Nine out of 10 B2B companies in the U.S. now use content marketing to attract prospective buyers. And many agree that white papers are "the king of content" that can help any B2B vendor generate leads, nurture prospects, and cement sales.
"When done correctly, no other type of content produces such powerful results," says white paper expert Gordon Graham. "A tweet is gone in an instant. But a white paper can continue to deliver results for several years running."
Creating the right mix of journalism and copywriting in a white paper can be challenging. Too many white papers are nothing but sales pitches that disappoint readers. To help B2B vendors do better, White Papers For Dummies® (Wiley, 978-1-118-49692-3, April 2013) clearly explains the theory and practice of using white papers in B2B content marketing.
The book starts with an overview of the huge opportunity white papers present to both marketers and copywriters. Further chapters answer all the most common questions, explaining the main types of these documents; when to use each one; what to include and what to leave out; how to research and build a compelling argument; how to express points in clear language; what to allow for a budget and schedule; and what's ahead for white papers in coming years.
Author Gordon Graham—also known as That White Paper Guy—provides dozens of tips and tricks to help any white paper project come together faster and easier. With 384 pages packed with advice and best practices, White Papers For Dummies is the most comprehensive book on white papers every published. Anecdotes, sidebars, tables, and the trademark "For Dummies" humor keep the text lively and accessible.
For marketing managers eager to build a B2B business, the book describes the benefits of using white papers; how to pick the best format to meet any marketing challenge; a step-by-step process for managing these projects; and how to promote a finished white paper for maximum exposure to prospective customers.
For writers keen to offer white papers as a service to clients, White Papers For Dummies explains how to plan, research, write, price, manage and even design a compelling document that stands head-and-shoulders above most white papers circulating today.
About the author:
"That White Paper Guy" Gordon Graham is an award-winning copywriter who's worked on more than 175 white papers for everyone from tiny startups to Google... for clients from Australia to Finland... on everything from building online worlds for kids to managing billion-dollar engineering projects. Gordon has taught writing at two universities and in-house at firms including Cisco, Ericsson, and Sprint. And he's written close to 1,000 magazine articles for everyone from accountants to woodworkers. Gordon finds most white papers not nearly as persuasive as they could be, and he's worked since 2001 to help B2B companies make their white papers more effective. For more info, visit http://www.ThatWhitePaperGuy.com