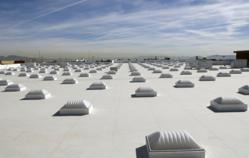 "Most people don't think that a roof coating can save energy, but it can"
Philadelphia PA (PRWEB) May 31, 2013
National Energy Technologies, a Pennsylvania energy efficiency company has added a superior roofing product line to its list of services. According to the company spokesperson; " Most people don't think a roof coating effects their energy bill, but it does" New reflective roof coatings have proven to be as effective as insulation for thermal heat protection. This white roof coating is capable reflecting away so much of the sun's ultraviolet heat signature that it is capable of reducing the need for air conditioning up to 40% in some building types. This roof coating is not only reflective but is widely considered among the finest flat roof coating available. It boasts a warrantee up to 20 years and seals and coats everything it touches. This product is a flexible multipurpose Kevlar reinforced Thermoset coating able to be applied in one coat and adheres to 1670 lbs. per square inch. It is especially suited to metal roof applications where surface movement will render other roof coatings ineffective. Because of huge temperature swings on metal roof's they are notorious for expansion, seam stretching and leaks. This patented white roof system will dramatically reduce the metal roof temperature seam travel and will remain flexible to maximize seal. It is able to adhere to wood, concrete, metal, foam, petroleum based and rubber roof membranes and will keep the roof temperature with 10 degrees of ambient temperatures. This same substance is being used to coat the battleship USS Texas, US port authority NY, water storage tanks, basement walls, marine pilling's or any other surface that needs a far superior adhesion under wet marine conditions. Additional material benefits include superior mold resistance, UV resistance, class-A fire rating, and a 200% sustained lifetime flexibility. White roof's will also increase the effectiveness of air conditioning equipment which is often left baking on black hot roof's breathing its makeup air from oven like conditions. Solar companies will also highly recommend a new white roof surface before panel placement for maximum performance.
National Energy Technologies LLC has elevated the standard of excellence of Conservation Consulting Services by combining expertise in multiple utility reduction practices in a comprehensive yet holistic approach. We are a commercial facility conservation consultant specialist. Our firm will introduce, and consult on targeted technologies designed to maximize utility savings with the shortest ROI. Our techniques will save from 5 to 25% on electricity, cooling, water, or fuel, by correcting inefficiencies in; air conditioning, large refrigeration, lighting, laundry, compressed air, water flow and many other resource depleting activities. National Energy Technologies performs energy assessments, corporate counseling, public speaking, and can consult on demand response, deregulated energy contracts as well as ongoing energy modeling. Our technicians are efficiency specialists; and understand all aspects of large facility infrastructure. 800-984-0332