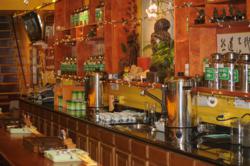 Green tea contains many antioxidants that can improve overall health.
San Francisco, CA (Vocus/PRWEB) March 18, 2011
San Francisco tea Vital Tea Leaf owner, Ming, says tea is not only a refreshing beverage, it is a medicine that possesses many healing properties. Ming describes the properties of green tea, specifically those in his Angel Green Tea.
"Green tea contains many antioxidants that can improve overall health," said Ming. "It is often used to lower blood pressure and cholesterol, help diabetes, and to detox the body."
University of Purdue researchers also recently discovered that a compound in green tea inhibits the growth of cancer cells. New evidence is also emerging that green tea can help dieters. In November 1999, University of Geneva researchers found that men who were given a combination of caffeine and green tea extract burned more calories than those given only caffeine or a placebo.
Ming also claims black tea can help with blood circulation and white tea has been purported to have cancer-fighting properties. Vital Tea Leaf offers a special green tea called Angel Green. The store's bestselling green tea in San Francisco is from China and is made with fresh, delicate, baby green tea leaves.
Vital Tea Leaf is a San Francisco destination for Bay Area residents and visitors. "Me and a friend stopped in [Vital Tea Leaf], thinking we could get a cup of tea and leave, but instead our hostess, showed us about 5 different samples, from green to blue to black to herbal tea and a puerh tea, telling us the history and notes behind each sip," said Vital Tea Leaf customer Allison X. "I didn't feel pressured to buy anything, but my friend left with a box of his favorite Jasmine tea and a box of blooming tea."
For more information about Angel Green tea or any of Vital Tea Leaf's products, call them at (415) 992-7195, visit them on the web at http://www.vitaltealeaf.net or drop by one of their San Francisco stores located at 509 Grant Avenue, 905 Grant Avenue, and 1044 Grant Avenue or their Seattle stores located at 1401 1st Avenue and 2003 Western Avenue, Suite 109.
About Vital Tea Leaf
Vital Leaf Tea is a tea bar that specializes in loose-leaf tea, black tea, red tea, oolong and pu-erh teas, green tea, and white tea in San Francisco. Vital Leaf Tea serves the San Francisco Bay Area.
In addition to loose-leaf teas and hand-rolled flowering tea balls, Vital Tea Leaf also offers an assortment of porcelain, glass and rare Yixing purple clay teapots, hand-painted tea sets and other accessories.
The shop has been featured on international culinary and travel television shows such as the History Channel: Only In America, World Chinese TV: Success Local Business, San Francisco Chronicle, Santa Rosa Daily, MTV Italy, Take Home Chef, Yan Can Cook, Travel Channel from Germany, Mexican Airline Magazine, American Airline Magazine, NBC TV Channel, Cincinnati TV Channel, Fine Living channel, and many more newspapers and magazines around the world.
###